Holiday Style Family Friendly Ideas, Events and Programs
Every year, Austinites look forward to traditions that make the Holiday's special for them and their families, while new residents to the city create new memories and traditions with their loved ones.  Austin Parks and Recreation centers give people the choice of a multitude of events and programs to enjoy during the months of November and December.   Whether you want to go to a special event or take the opportunity to keep the kids busy during the Christmas break, below is a list of some of the best things that the Austin Parks and Recreation Department has to offer.  ENJOY AND HAVE A WONDERFUL HOLIDAY SEASON!
48th Annual Zilker Tree Lighting
The Zilker Holiday Tree stands 155 feet tall and is composed of 39 streamers, each holding 81 multicolored, 25-watt bulbs - totaling 3,309 lights. At the top of the tree, a double star measures 10 feet from point to point. This unique spiral pattern of lights was created by City of Austin electricians and at its circumference, the tree measures 380 feet with the diameter at 120 feet. The base of the tree is arranged in a circle around the Moonlight Tower. FREE.  The tree is lit every night until midnight starting on December 1st and continuing through December 31st. 
Enjoy a unique and timeless evening with the Nutcracker:  Suite of Dreams at the Boyd Vance Theatre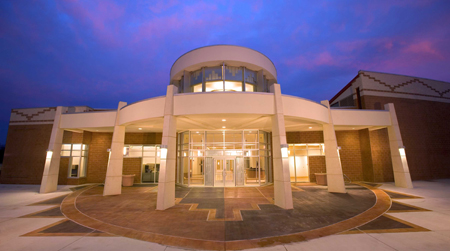 Performed by Metamorphosis Dance Ensemble at the Boyd Vance Theatre, come see what has made this ballet a family favorite, but with new twists on the story.  Clara will travel through a second dream before returning to reality, and along the way will meet new characters that will dance their way into your hearts.  You will enjoy many genres of dance as Clara makes her way through her dreamscapes. Show dates will be performed December 5th – 7th.  For more information, please visit Metamorphosis Dance website.
Austin Symphony Orchestra's Christmas in the Community
The Austin Parks and Recreation Department is excited to be a part of the Austin Symphony Orchestra's brand new program this holiday season that will bring FREE music to all interested Austinites.  Five of our Recreation/Cultural Centers will be hosting free Christmas concerts brought to you by the Austin Symphony's Christmas in the Community concert series.  Christmas in the Community is a series of twelve concerts that will be held throughout the City of Austin featuring different ensembles of the orchestra playing familiar holiday music. The program kicks off on November 22nd at the Domain with their annual tree lighting ceremony and concludes December 22nd with a performance at the State Capitol.
The Austin Parks and Recreation Centers that will be participating in this festive concert series, along with dates and times, are listed below.  For additional times, dates and locations, please visit the Austin Symphony Orchestra's website.
Christmas in the Community replaces the Austin Symphony's previous holiday tradition, The Christmas Sing-Along. The new twelve concert series enables the Symphony to reach a broader audience than just the one night only performance which limited attendance to 3,000 people. This new program, with more diverse locations and times, will be able to reach far more Austinites with the joyous sounds of the holiday season.
Also featured on this series are members of the Austin Youth Orchestra, who will perform "side-by-side" with the Austin Symphony. These select young people are given the opportunity to perform with professional orchestra members; this experience proves to be an invaluable teaching tool and experience for these budding musicians.
AUSTIN PARKS & RECREATION DEPARTMENT CONCERT DATES TIMES AND LOCATIONS:
December 6, 12:00 PM – String Quartet – Montopolis Recreation Center
December 10, 7:00 PM – Woodwind Quartet – Emma S. Barrientos Mexican American Cultural Center
December 17, 6:30 PM – Brass Quintet – George Washington Carver Museum and Cultural Center
December 18, 1:00 PM – String Quartet – Asian American Resource Center
December 19, 10:30 AM – String Quartet – Gus Garcia Recreation Center
These performances are all free and open to the public with no tickets required.
Christmas at the Old Bakery & Emporium
Walk into a warm and inviting piece of Austin history (and a fun holiday shopping experience) by entering the Old Bakery & Emporium Gift Shop and Art Gallery at 1006 Congress Avenue (a half block south of the Capitol grounds).  Completed in 1876 with hardwood floors, concrete stairs and brick walls, the holiday spirit is alive and robust on this little corner of Congress Avenue.
If you are shopping for Christmas or Holiday gifts and are looking for a one-of-a-kind, hand-made product made by local artists and craftsmen that won't cost you an arm and a leg –this just may be the place you've been searching for!  Discover the perfect "Uniquely Austin" gift shop where you can find intricate jewelry, University of Texas items, paintings, enticing glass and stained glass-worked items, creative wine bottle holders made from decorative all-leather boots, children's toys, impressive crocheted and knitted treasures and so much more! 
Join the Old Bakery & Emporium on Saturday night, December 6th after the Capitol Tree Lighting for a FREE cookie decorating event for kids of all ages!  While parents shop for that one-of-a-kind gift for someone special, kids will be decorating (and then eating) Christmas cookies!  You can also enjoy  a beautiful outdoor pocket park right outside for sitting, relaxing or just grabbing a bite to eat in the heart of Austin - complete with a local food truck!
50th Anniversary of the Zilker Park Trail of Lights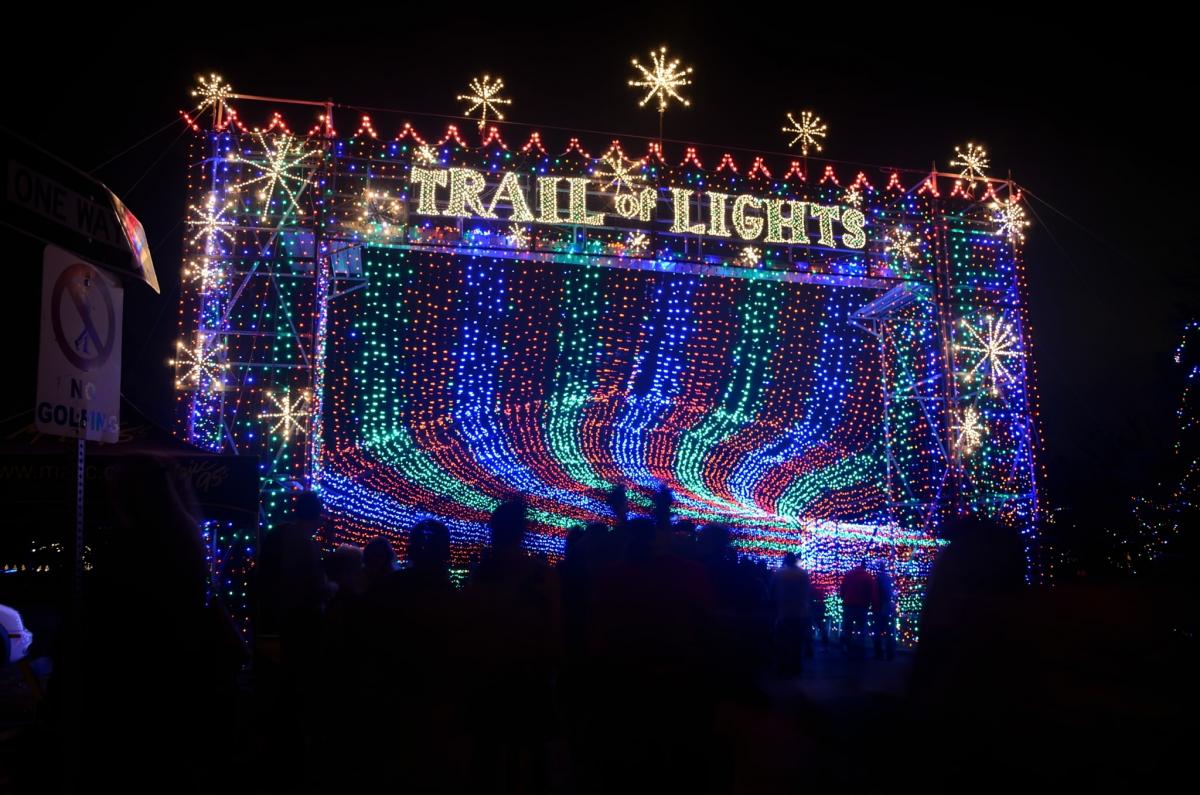 The 2014 Trail of Lights is celebrating its 50th Anniversary this year.  Having started in 1964 as "Yule Fest", this wonderful Austin tradition has grown while creating treasured memories for Austinites, their families and holiday visitor's to our great city.  The Trail of Lights is Austin's most celebrated event of the Christmas season, thanks to the Trail of Lights Foundation, H-E-B and other generous sponsors.  Starting with the lighting of the Zilker Christmas Tree, the "flipping of the switch" puts thousands of people in Central Texas into the holiday spirit.   What would Christmas in Austin be without a visit to Zilker Park's Trail of Lights during the holidays? 
This fabulous family tradition will begin on December 7th and run through December 21st. Monday – Thursday nights until midnight are FREE.  Friday – Sunday nights are $3 per person.
The Nutcracker & Bah Humbug! Showing at the Dougherty Arts Center Theater
• 14th Annual Austin Children's Nutcracker (Austin Ballet) December 12th – 14th; 19th – 21st & December 22nd
• Bah Humbug!  A One-Man Christmas Carol (The Company), December 20th.
Children's Winter Break Camps at Austin Recreation Centers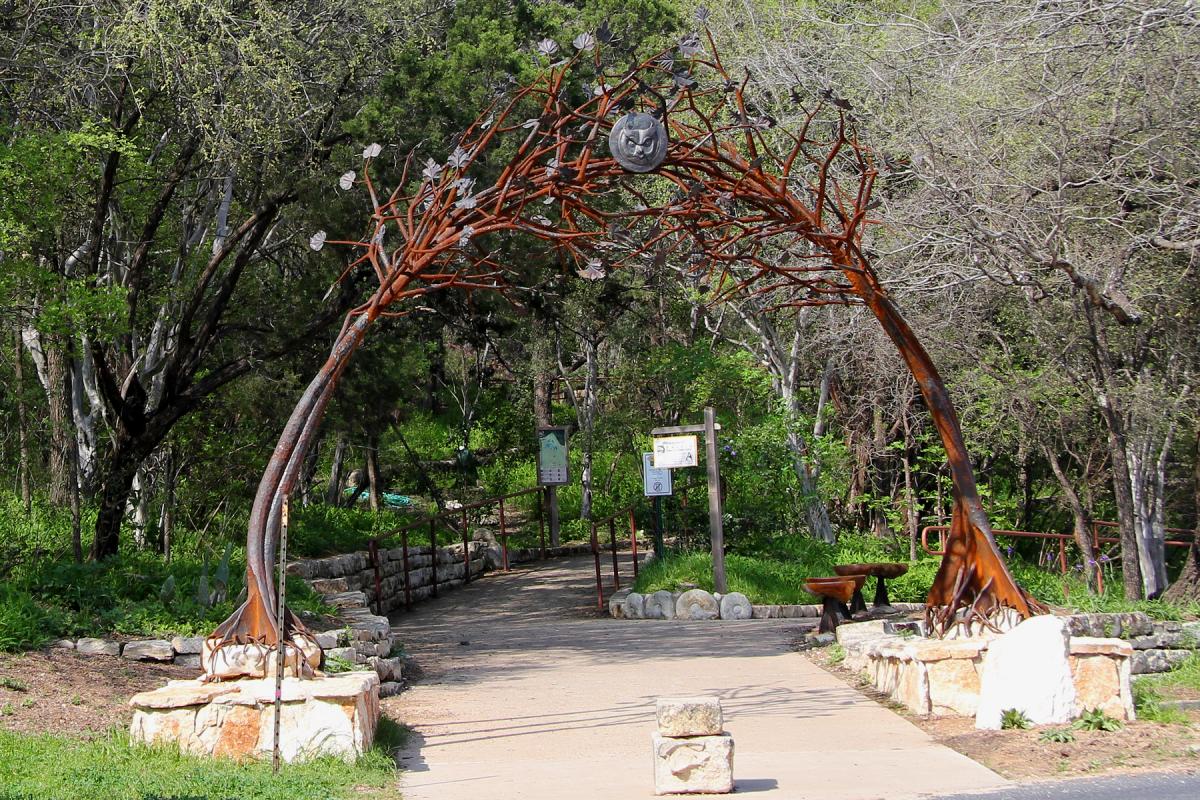 The weather may be chilly outside, but it's always warm and welcoming at our Recreation and Nature Centers!  Winter Break Camp is designed to provide kids an enjoyable experience in a supervised and structured environment, while giving parents the needed time to get ready for the holiday's or work without worrying about leaving the kids at home.
Creative activities will engage your child's imagination and promote positive social interactions. Children will participate in games, crafts, fun activities, field trips and more!  Most locations are open the week of Christmas (NOT including Christmas Day).   Pre-registration is required and age limits on classes range from 5 – 12 years old.  Camp participants will need a lunch and 2 snacks daily, depending on the class.  Your child can attend the whole week or you can pick and choose the day(s) that work for you. Since hours and days vary by location you will need to check with your particular recreation center for their specific Winter Break information.  More information is available at the recreation centers website and Austin Nature and Science Center website.
Polar Bear Swim 2015 -  New Year's Day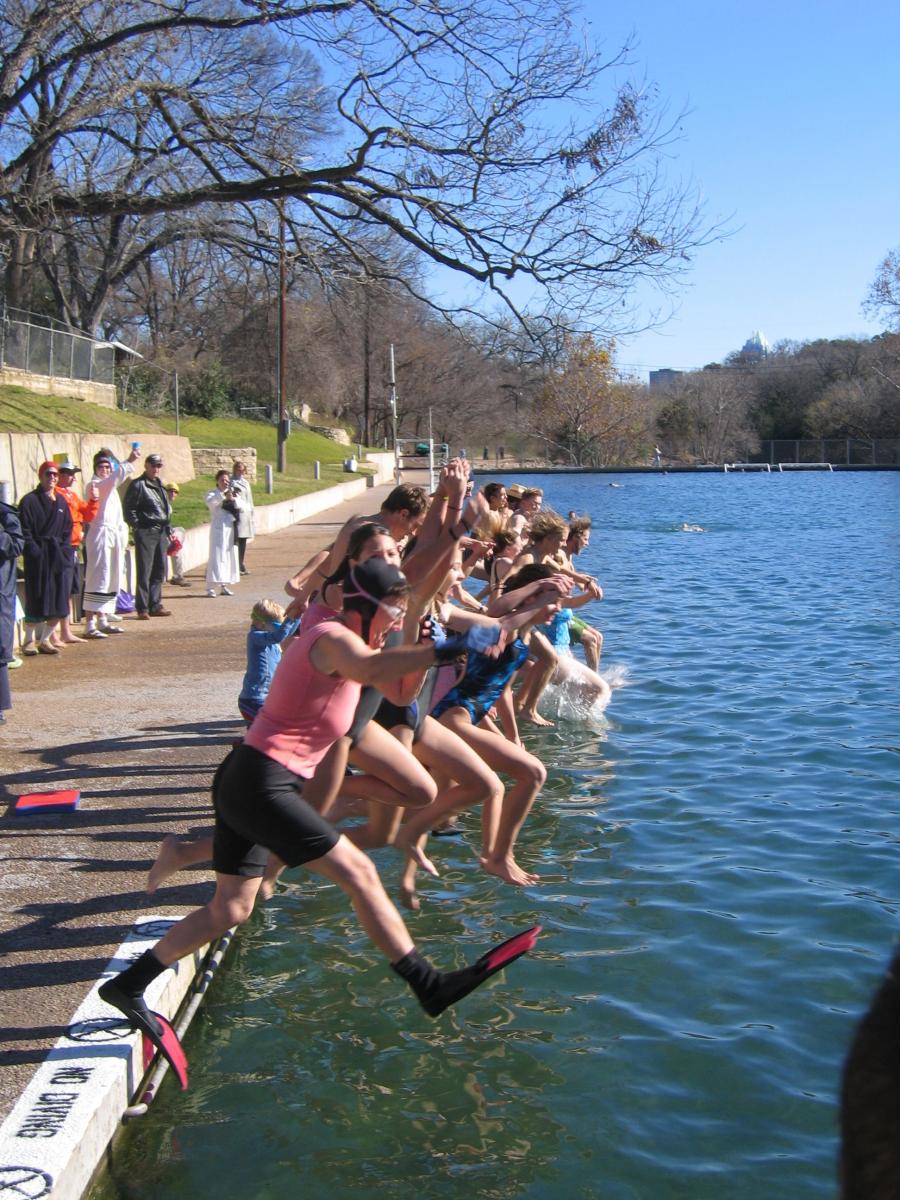 Start the New Year off in a tradition that has been called weird, wacky and just plain cold, but it's a great way to jumpstart the New Year (and it has been rumored to bring you luck too)…The Polar Bear Swim! The Save our Springs Alliance (SOS) sponsors the Polar Bear Swim at Barton Springs Pool each New Year's Day.  Central Texans have swum in Barton Springs year 'round for hundreds of years.  The annual "Polar Bear Swim" on New Year's Day is a growing tradition that brings together Austinites of all ages for a fun, festive way to bring in the New Year!  The official plunge is at 10am and hot coffee and donuts will be served starting at 9:30am.  The locker rooms and showers will be available for after your swim, and don't forget your Polar Bear Splash t-shirt for just $15!  We hope to see you there for the first splash of the new year into the Soul of our City—Barton Springs Pool!  More information can be found at the SOS website.
Photo courtesy of Save our Springs Alliance (SOS)