Holiday Gift Ideas...Youth Programs at Dougherty Arts Center
Doughtery Art Center Youth Programs
Spring Break and Summer Camps, Art and Theater Classes & Workshops
Costs vary according to class and length of program
Click on brochure cover (above) to access all the 2016 Spring and Summer classes
Give the gift that will help nurture a love for the Arts…The Dougherty Arts School is a community-based arts education program focused on developing creativity in a multi-disciplinary environment. The Dougherty Arts School's mission is to provide quality and multi-discipline arts education programs for all ages through collaborations at all levels by teaching students to become future skilled workers, innovative leaders, and professional artists who make valued contributions to society. We offer a range of programs for ages three years to senior adults with classes in drawing, painting, digital arts, ceramics, theater, and so more.  Visit our webpage at http://austintexas.gov/sites/default/files/files/Parks/Dougherty/dougherty_web.pdf for information on everything that the Dougherty Arts Center is offering this Spring!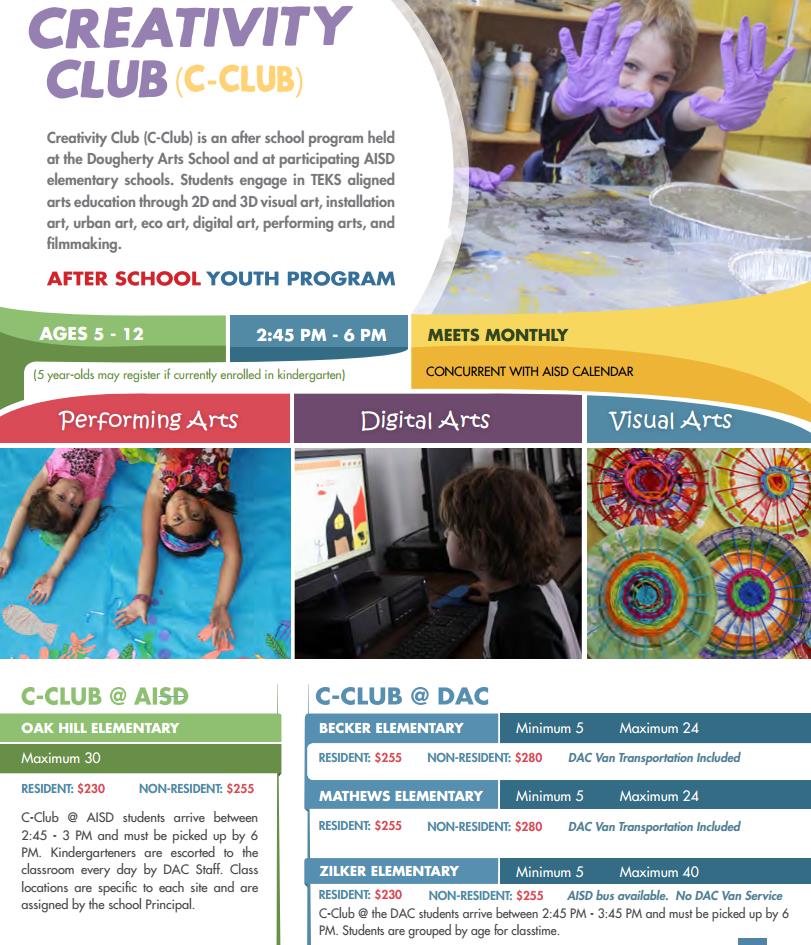 Sign up early! Classes have a minimum number of students needed for the class to make. If the minimum enrollment is not met, the class will be canceled two (2) business days before the first class.
Youth Programs Explore Arts and Creativity Club programs offer monthly tuition payment options. Payment is due in our office by the 15th of each month for the next month's tuition. Late fees of $15 will be assessed beginning on the 16th. If the payment does not reach our office before the 20th, we will drop unpaid students from the class and offer the spot to another child on the wait list. Spring Break Camps require full payment at the time of the registration.