Elizabet Ney Museum Presents: POLKAPOCALYPSE!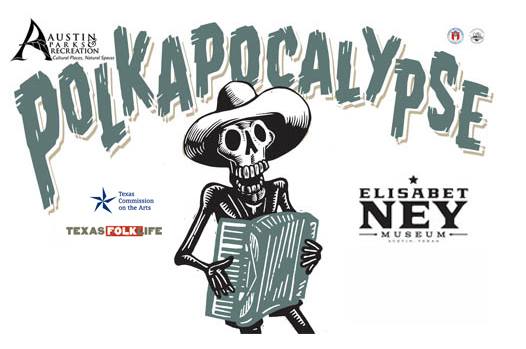 ELIZABET NEY MUSEUM PRESENTS:
THIRD ANNUAL POLKAPOCALYPSE!
SUNDAY, OCTOBER 30
12:00 PM - 5:00 PM
304 East 44th Street
The Third Annual POLKAPOCALYPSE! is upon us! Four awesome Polka bands--including two Grammy Award (TM) winners--will rock the boots off your lederhosen with a crazy mix of Tejano, Czech, German, Ukranian, Polish, Slavic, and Norteno sounds! 
Entertainment Schedule:
Noon: Austin's Fabulous Polkasonics
1:15: Houston's Polish Pete and the Polka I Hardly Knew Her Band
2:30 San Antonio's Los Texmaniacs, 
3:45 Denton's Brave Combo 
 
Some FAQs:
Yes: Admission is FREE! 
Yes: There will be a dance floor. 
Yes: Bring the family and a picnic and chairs if you wish. It's totally family friendly.
Yes, the weather looks terrific. If we need to change (which seems very unlikely) we will  announce by Friday afternoon. 
Yes: There will be food, drinks and ices available and there are lots of restaurants and convenience stores within a couple of hundred yards of the museum if you don't find what you need here! Coolers are totally allowed, beer alas is not. Bring a shirt and get it printed on site! 
Yes:  Parking is available at the Hyde Park Christian Church about 1/8 of a mile east of us on 45th street. There's also the Fresh Plus parking lot at 43rd & Ave G. Try not to park in front of people's houses if you're in the street. Better yet, BIKE OR BUS! Thanks very much!
POLKAPOCALYPSE! is produced by the Elisabet Ney Museum and Texas Folklife, with support from Texas Commission on the Arts . The Elisabet Ney Museum is a part of Austin Parks and Recreation Department - Arts and Parks
Also note: The City of Austin is proud to comply with the Americans with Disabilities Act. If you require assistance for participation in our programs or use of our facilities, please call (512) 974-6700