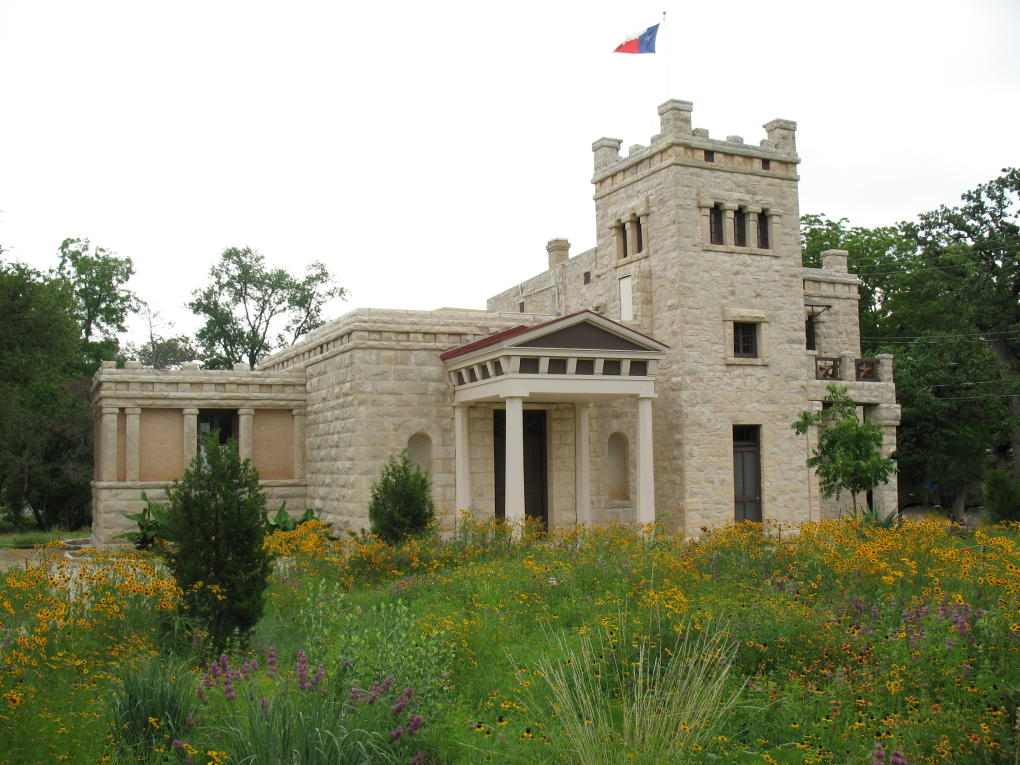 You park your car, excited about visiting one of the oldest art museums in the State of Texas, not knowing what exactly to expect,when  you suddenly stop short as you round the corner… It's a sunny day with light blue skies full of fluffy clouds, and you're surrounded by native plants, full of colorful shades of pinks, yellows, purples, reds and oranges framed in multiple hues and colors of green.  The scents in the air have you closing your eyes in appreciation, and when you do, you hear the sounds of nature all around you.  Birds singing, tree branches rustling and if you listen closely enough you might even hear the butterflies flutter.  You sigh in contentment, then opening your eyes you look up and see an eclectic crème colored limestone building complete with its own ivory tower. It's not hard to suddenly imagine yourself in a different place and time. 
Congratulations, you are now standing in front of the Elisabet Ney Museum.  Hidden in the back of the old, historical museum is a large green field that is intersected by a creek complete with a wooden bridge that you can use to get to the other side.  While the backyard is currently undergoing a few improvements, it is an ideal place to have a picnic, sit and read under a tree or commune with nature and friends.  Make sure and be on the lookout for upcoming events sponsored by the Ney Museum that will be held in the "backyard" and are free for the community!
If you think the outside of this miniature crème-colored castle is breathtaking…just wait until you step inside this historical building and lay your eyes on the works of art, the beautiful wooden floors and the Texas limestone walls.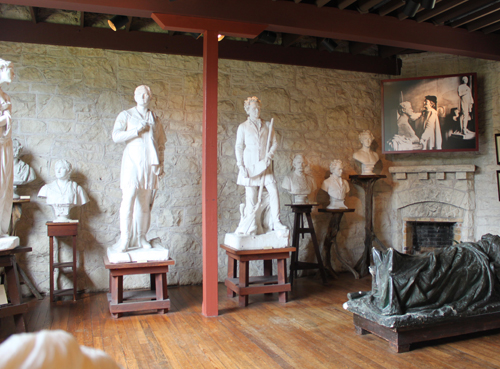 The Elisabet Ney Museum was the home and studio of German-born sculptress Elisabet Ney in the late 19th century. In the former loft and working area, visitors can view plaster replicas of many of her pieces. The artwork and personal belongings of Ney comprise the core of the present collection, and besides furniture, tools, and personal effects, the museum has sculptures in bronze, marble, and plaster that include many of Ney's likenesses of contemporary political and literary figures: King Ludwig II, Otto von Bismarck, Giuseppe Garibaldi, Arthur Schopenhauer, and William Jennings Bryan. Also on display are her sculptures of Sam Houston, Stephen F. Austin, and Gen. Albert Sydney Johnston, as well as the allegorical figure of Lady Macbeth, which Ney regarded as her masterpiece. The collection now includes over fifty of the 100 statues, busts, and medallions executed by Elisabet Ney.
In 2007, the City of Austin Parks and Recreation Department created a Master Plan for the Elisabet Ney Museum that included the recreation of a historic prairie landscape, evocative of what Ney experienced, fought for and loved every day of her life in Austin. A cornerstone of Austin's Hyde Park Historic District, the Elisabet Ney Museum continues to refresh and energize, inspire and enchant visitors of all ages.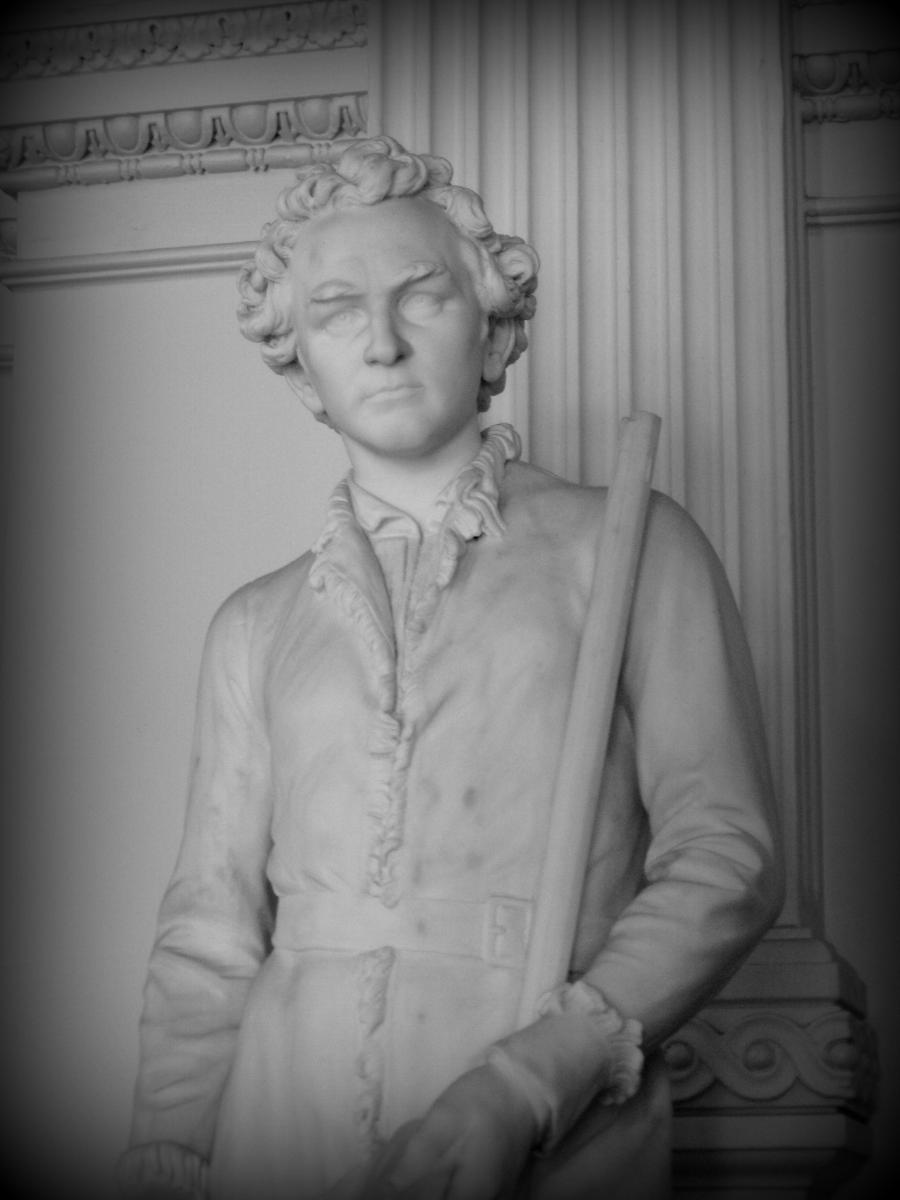 In keeping with the pioneering and inspirational spirit of Elisabet Ney, the Elisabet Ney Museum has launched a new literary program, "The Elisabet Ney Museum Writer in Residence." In this new program, an author selected through an application and vetting process will be given use of the Tower for two weeks, to be inspired, to contemplate and to create.  This is the room that Elisabet Ney built especially for her husband, the philosopher and researcher, Edmund Montgomery. During this time, while the Museum is closed to the public for yearly renovations and upkeep, the author will be allowed to use the space to inspire and advance their work as they wish.
This opportunity will be offered in both the fall and spring seasons to authors ranging from undergraduate students to seasoned wordsmiths. A committee composed of museum staff, educators, and locally published authors will name each year's two Residents from applications received.
This spring, the Inaugural Elisabet Ney Museum Writer in Residence is Mary Helen Specht. Born and raised in Abilene, MS. Specht has a B.A. in English from Rice University and an M.F.A. in Creative Writing from Emerson College, where she won the department's fiction award. Her writing has been nominated for multiple Pushcart Prizes and has appeared in numerous publications, including: The New York Times; The Colorado Review; Prairie Schooner; Michigan Quarterly Review; The Southwest Review; Florida Review; Southwestern American Literature; World Literature Today; Blue Mesa; Hunger Mountain; Bookslut; The Texas Observer; and Night Train, where she won the Richard Yates Short Story Award. A past Fulbright Scholar to Nigeria and Dobie-Paisano Writing Fellow, Specht teaches Creative Writing at Austin's St. Edward's University. Her first novel, Migratory Animals, was published by Harper Perennial on January 20, 2015.
Ms. Specht's residency will begin in April 2015.
Brief History of Elisabet Ney
Growing up in Germany in the mid 1800's, Elisabet Ney knew from a young child that she wanted to be surrounded by beauty and art.  Her father, a big brusque, bearded and successful stonecutter, inspired her to become a portrait sculptor, much to his chagrin.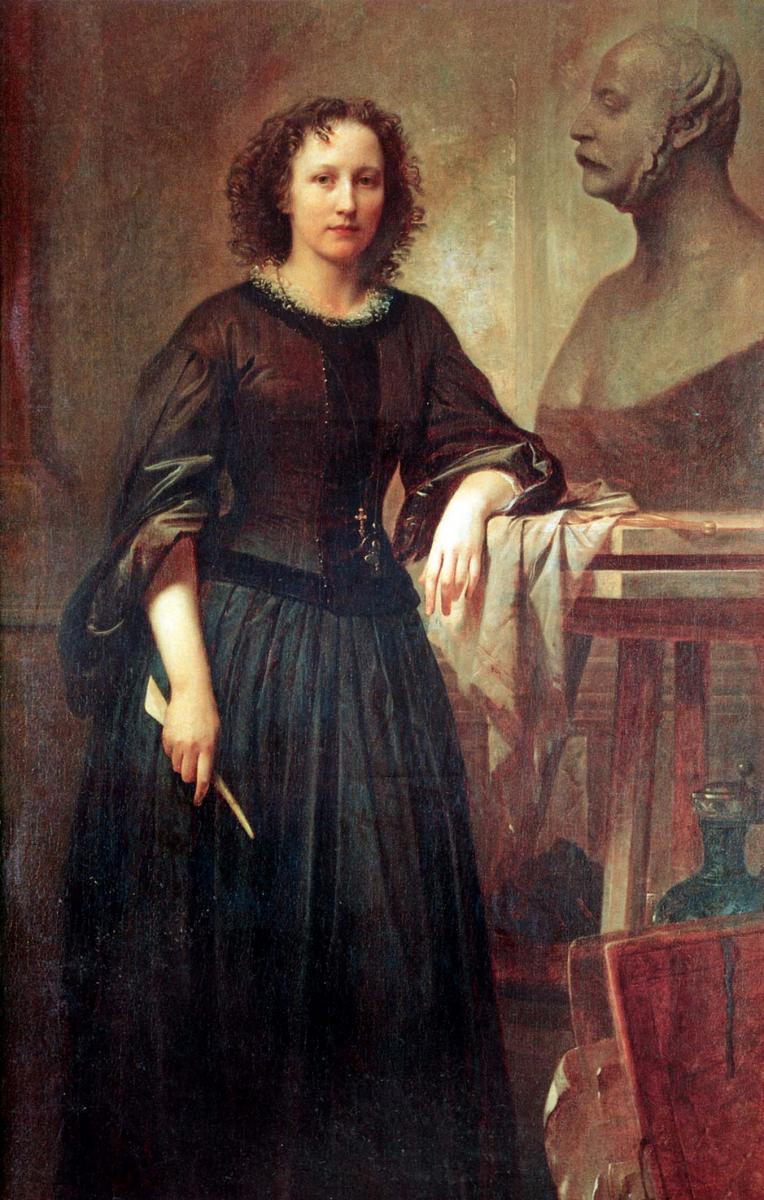 Ney moved to Munich in 1852 and applied to the Munich Academy of Art. She was summarily rejected because she was a woman, but after summarily proving herself to teachers and her peers, she was finally invited to become a regular student.  Ney was the first woman to ever study at the Munich Academy of Art and this honor was only one of many to come for the young sculptress.  After graduation and many years of with a private teacher, Elisabet embarked on a career that would continue to surprise, inspire and mystify most people.
From 1853 – 1857, she trained with world renown sculptors to kings and great persons throughout Germany.  Throughout her career in Germany, Elisabet became a sought after sculptor to the great persons and kings of Europe. 
Elisabet Ney married Scottish physician Edmund Duncan Montgomery in 1858 and being an independent woman of her time, she did not relinquish her maiden name in honor of her husband's last name.
In 1871, during the Franco-Prussian War, Ney and her husband made the difficult decision to move to America because of political conflicts.  She did not practice her sculpting while she lived and ran a plantation for more than 20 years before making the decision to build a new studio and get back to her passion in life by sculpting the important people of Texas.  In 1892, European portrait sculptress Elisabet Ney purchased property in Austin and established a studio named Formosa, (Portuguese for 'beautiful').  She then resumed her career as a noted sculptress of great men.
At Formosa, Ney sculpted legendary Texans, among them Stephen F. Austin and Sam Houston.  At her American studio Ney also retrieved and assembled portraits of European notables, including King Ludwig II of Bavaria, Otto von Bismarck, Arthur Schopenhauer, Giuseppe Garibaldi and Jacob Grimm rendered from her life as a young artist in Europe. The plaster "drafts" of these works live here, while their marble companions are located in sites all over Texas and at the Smithsonian and the National Statuary Hall in Washington, D.C. 
Though well-known and highly regarded as a sculptress Elisabet was more than just an artist.  She spent the last years of her life in Austin, working vigorously and gathering a salon that ranged from artists and musicians to politicians and priests. Holding forth on creek side benches, she presided over discussions of politics, philosophy and art that lasted long into the warm Texas nights. Ney was also a philosopher, a feminist, a humanist and a historian. Her protégées went on to become leaders in the arts, letters, and the Texas suffragist movement. 
After Ney's death in 1907, Formosa became important not only because it was treasured as a memento of Elisabet Ney, but because it was also filled with her works, including those gathered from Europe. One of Ney's dearest friends, Texas clubwoman Ella Dancy Dibrell, purchased Formosa from Dr. Montgomery and, in 1911, together with 119 other friends and admirers of Elisabet Ney, formed the Elisabet Ney Museum and the Texas Fine Arts Association to preserve the memory and legacy of Elisabet Ney. It has operated as a museum ever since.
Elisabet Ney's legacy has been increasingly recognized and honored since the museum's founding in 1911.  Today, Formosa is listed on the National Register of Historic Places.  It is also a local and state landmark, venerated as Ney's former studio, the first art museum in Texas.  The National Trust for Historic Preservation selected Formosa to be one of the members of its Historic Artists' Homes and Studios program together with the former studios of more contemporary artists including Jackson Pollock, Winslow Homer and Georgia O'Keefe. 
.