Eastside Environmental News (Spring-Summer 2016)
Field Notes…

Greetings, and welcome to our latest edition of the Eastside Environmental Newsletter! This newsletter highlights East Austin area activities, projects, and community outreach events. In this issue, we explore some exciting new initiatives, including an East Austin historic survey and the Spirit of East Austin – the City's resurged commitment to equitable economic development. We also bring updates about continuing City initiatives, such as the Watershed Protection Department's Clean Campus Program that engages students with exciting, hands-on learning and outdoor service activities.
As always, please feel free to contact me with your feedback and ideas:
Oscar Garza
PH 512-974-1893
Spirit of East Austin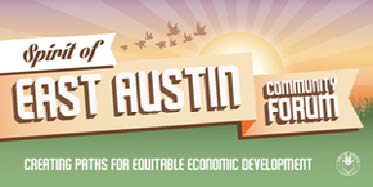 Austin is one of the fastest developing cities in the nation, currently offering a strong job market, a vibrant entertainment scene, and a host of other cultural activities; however, not all areas of Austin are benefiting from the rapid growth. The City's demographic study of East Austin showed great disparities in income, employment, and educational attainment between those who live in the "Eastern Crescent" (all of Travis County east of IH-35, with a few parcels west of the interstate) and Travis County as a whole.
The City of Austin hosted a community forum to engage the East Austin community in a planning process for equitable economic and community development. This Spirit of East Austin Community Forum, held in September at the Travis County Expo Center, brought East Austin residents and stakeholders together to discuss existing development efforts and to identify three to five substantial and achievable goals or projects to transform the area.
During the forum, Mayor Adler, Council Member Houston, City Manager Ott, and County Judge Eckhardt described their hopes for and commitment to the residents of East Austin. Attendees watched a video describing the history of segregation and disinvestment in the Eastern Crescent and joined small groups to discuss one of 14 themes: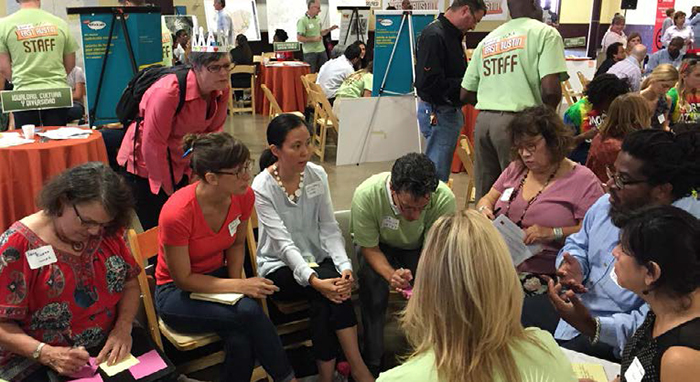 Citizens participate in the Spirit of East Austin Forum
Equity, Culture, Diversity
Neighborhood Character
Transportation
Housing and Affordability
Family Support and Social Services
Justice & Law Enforcement
Sustainability, Prevention, & Environment
Food Access
Health
Education
Jobs, Employment, & Training
Business & Entrepreneurship
Public Facilities
Government & Engagement
The community forum was part of an ongoing effort to overcome some of the disparities that have negatively affected East Austin communities. To learn more or to become involved in the Spirit of East Austin initiative, please visit www.mayoradler.com/spirit-of-east-austin.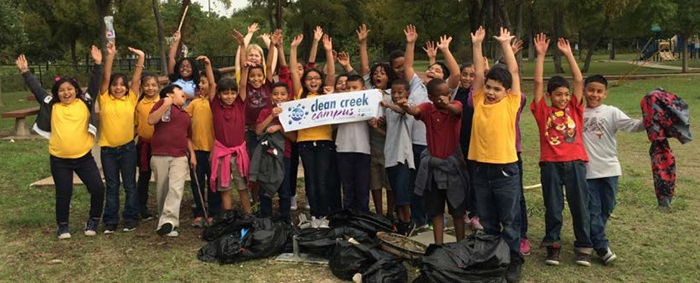 Sims Elementary students clean up Boggy Creek in Givens Park
Elementary Students Explore and Restore Local Creek
Thirty 4th graders tossing mud balls might sound like an alarming behavioral issue… but it was all part of good fun and ecological restoration for Sims Elementary students, who pitched in to help protect Boggy Creek at Givens Park!
The activity was part of the Clean Creek Campus program, hosted by Keep Austin Beautiful and the City's Watershed Protection Department for 3rd-8th graders. Participating classrooms receive two interactive (and standards-aligned) lessons focused on water quality protection, followed by a service project outside the classroom. In the last school year, the program reached nearly 2,000 students in 19 schools.
Sims Elementary 4th grade classes have participated in the program for the past two years. For their service project, they tossed seed balls (a mixture of clay, compost and native plant seeds) into a Grow Zone, a formerly mowed creekside area where native vegetation is allowed to grow, reviving the ecology of the creek and natural beauty of the area. As part of their service project, the students also removed 10 bags of trash from the creek, including a crutch, a bicycle tire, a chair, and numerous fast food wrappers.
Givens Park was an ideal site for the restoration project since recent floods had washed a large amount of litter into the creek, and WPD had recently established a Grow Zone in the area. Students learned how trees, shrubs, wildflowers, and grasses growing around the creek help filter some of the pollution that washes into the creek when it rains.
We're grateful for our volunteers of all ages, who help protect and restore Austin's creeks! Learn more about creekside restoration at www.austintexas.gov/creekside and about the Clean Creek Campus program at https://keepaustinbeautiful.org/programs/clean-creek-campus.
City begins historic survey of East Austin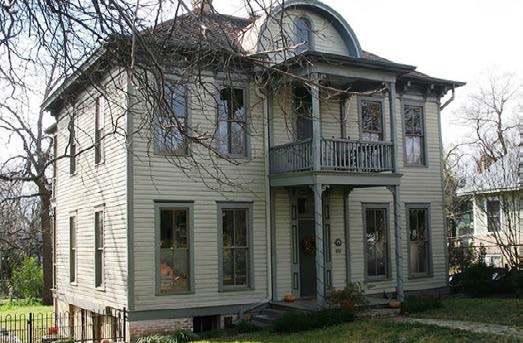 The City's Historic Preservation Office has contracted a historic preservation planning and management company to conduct a survey of East Austin. The company will research, photograph, and document residential, commercial, and other structures to determine the existence of historic landmarks and potential boundaries for historic districts.
Over the next few months, East Austin residents might observe consultants taking photos of various structures. During the year-long process, city staff will hold public meetings to solicit feedback and gather information from residents and property owners within the survey area. Residents are encouraged to share their stories or interesting facts about a home or structure with the photographers or at a public meeting.
Upon completion, the survey will delineate important neighborhood characteristics worthy of preservation and make the information available to property owners and neighborhoods interested in writing applications for local historic districts or landmark designations.
For more information, contact Jerry Rusthoven, Planning Manager, at 512-974-3207 or email Jerry Rusthoven.
Fresh Art. Fresh Water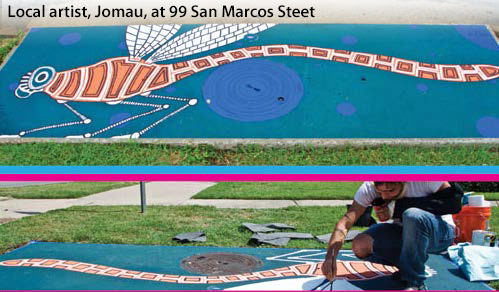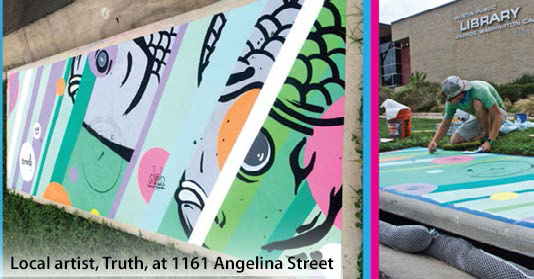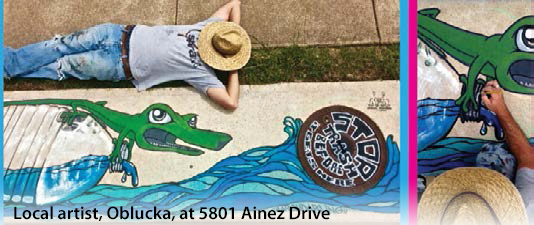 Creeks and lakes are a big attraction for Austin residents and tourists! The natural beauty of our waterways attract thousands of people who walk, jog, bike, boat, picnic, and play. Events of all sizes are based in and near our water, contributing greatly to our city's culture and healthy economy. Clean water is a wonderful place for people and pets to cool off in our hot climate and is essential to sustain Austin's unique wildlife populations. The Colorado River (including Lady Bird Lake and Lake Austin) runs deep in the heart of Austin.
Activities on land can significantly deteriorate Austin's water quality. Litter and pollutants (motor oil, pet waste, pesticides, etc.) that are left on the land will wash into our waterways when it rains, directly or through storm drains on our streets. Local artists painted water-themed designs on ten storm drains around Austin to raise awareness that these unobtrusive curbside cutouts carry pollutants directly to our creeks and river.
This public education project promotes the importance of protecting Austin's water quality and encourages community members to take actions that show their #creeklove, including using least-toxic gardening practices, picking up pet waste, not littering, and more. For more information and to view the painted storm drains, visit www.austintexas.gov/freshartfreshwater.
Puppet Show Engages Families in Growing Friendly Gardens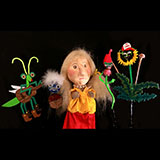 This spring, the Austin Public Library Literature Live team entertained families with an original, musical puppet show about sustainable gardening, based on Oscar Wilde's classic The Selfish Giant. The puppet show's theme supported the City of Austin's Grow Green program, which promotes yard care and gardening techniques that are healthy for people and the planet, including least-toxic ways to address challenging pest issues. At the end of the show, attendees received packets of native wildflower seeds, a color-your-own native plant themed mask, and temporary tattoos featuring Grow Green characters. For more information about Literature Live, visit http://library.austintexas.gov/literature-live/home and for more information on earth-friendly gardening, visit www.GrowGreen.org.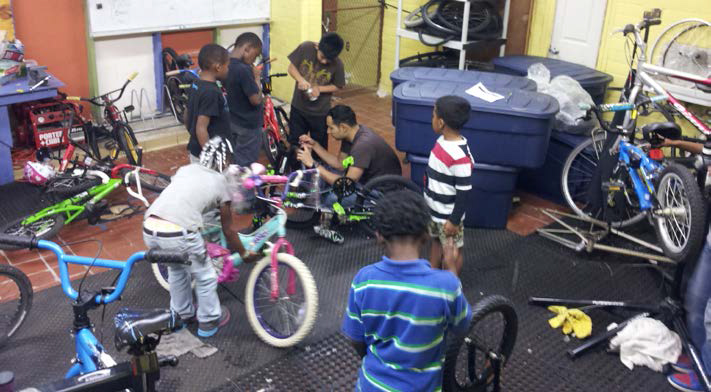 Grants Support a Bright Green Future for Schools
The City of Austin's Bright Green Futures Grants program provides funding for sustainability initiatives at local elementary, middle, and high schools. The competitive grant program (sponsored by the Office of Sustainability and funded by Austin Resource Recovery, and the Watershed Protection, Public Works, and Transportation departments) provides up to $3,000 funding for each selected school-based project.
These East Austin projects are among the 2015 grant recipients:
Cycle Academies will offer educational bike rodeos at Metz Elementary and Zavala Elementary Schools to teach students about bike safety.
Bike Repair Shops will provide students at Langford Elementary and Maplewood Elementary Schools with materials and training to perform basic bicycle maintenance. (see photo above)
A new Wash and Grow Vegetable Station at Kealing Middle School will promote conservation by encouraging students to use the water captured in an existing rain garden to wash their hands after working in the garden and to clean produce.
Metz Elementary School will create space for two shaded outdoor learning areas, surrounded by vegetable and native plant beds, as part of their Green Classroom Project.
The Foundation Communities at M Station Green and Healthy Kids Program will provide instruction about water and energy conservation and waste reduction. Students will learn how "going green" protects the environment and benefits their health.
Students at the Gus Garcia Young Men's Leadership Academy will plant new native plants and maintain the campus Rain Garden. Additionally, these young leaders will develop outreach materials to educate the surrounding community about the project and its benefits.
At International High School, the Keep International Beautiful Campaign will raise awareness about the wide variety of materials that can be recycled and the importance of recycling.
Students at Eastside Memorial High School will build educational display boards about recycling, collect and monitor recyclable materials from classrooms weekly, and create a recycling how-to video.
At the Clifton Career Development School, students will install a 2,500-gallon storage system to harvest rainwater from the roof of an existing metal barn on campus.
Bright Green Future Grant applications are accepted each year from September 1 through October 31.
For more information, visit www.austintexas.gov/brightgreenfuture, or contact the grants program coordinator by email Mary Priddy or call (512) 974-2539.