East Austin Environmental News Spring/Summer 2018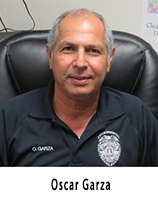 Collaboration. What is it good for? Absolutely everything!
Collaboration is a theme that runs through our current newsletter. But what is collaboration? It simply means people working together to achieve a desired goal.
In this issue, we're pleased to highlight a couple of exemplary collaborations in east Austin: Austin Youth River Watch participants and St. Johns community volunteers working together on the MLK Day Buttermilk Creek Cleanup and collaborative efforts that were showcased in the fascinating Juntos/Together exhibit at the George Washington Carver Museum's Cultural and Genealogy Center.
For the City's East Austin Environmental Initiative program, collaboration means continuing a 24-year effort to improve the East Austin community and environment.
East Austin has a nationally recognized legacy of collaboration between many grassroots groups and community organizations that makes us all proud.
We hope you enjoy the articles and help us share what's going on in East Austin. As always, please feel free to contact me!
Oscar Garza 512-974-1893
If you would like to receive this information electronically twice each year, please visit www.austintexas.gov/PollutionPrevention – in the Public Awareness Programs section (middle of page), click the "Subscribe to the biannual newsletter" tab.
Cleanup at Buttermilk Creek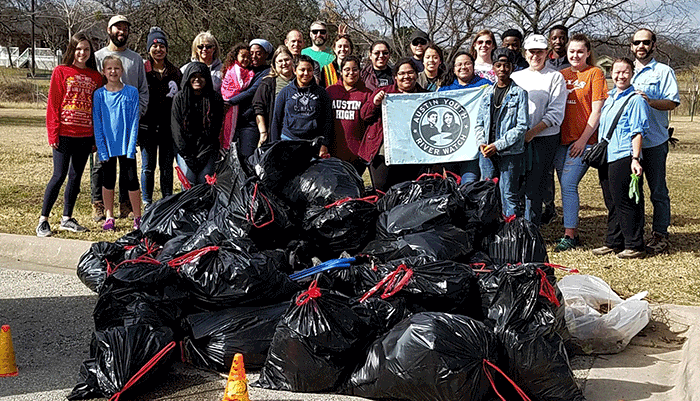 Written by: Raquel Veliz, an Austin Youth River Watch participant from Austin High School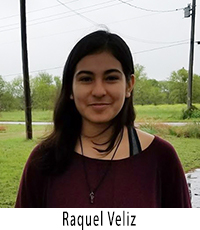 On January 15, 2018, Martin Luther King Jr. Day, a few of my fellow River Watchers and I piled our equipment, along with ourselves, into vans and headed off to Buttermilk Creek for a morning of picking up trash and planting native grasses.
Upon arriving, we propped up our little table and set out our gear. Within a few minutes, volunteers from the St. John community arrived, eager and ready to get started. As the event began, everybody set out to either plant native eastern gamagrass or pick up trash all along the creek.
One might think that picking up trash would be painfully boring, but as I looked around I saw smiles upon all faces as people laughed and joked and competed to see who could get the most trash into their bags! A couple of our River Watchers even pulled on wader suits, hopped into the water and had a blast collecting trash that floated just below the water's surface. Everyone enjoyed the company of friends and family as they worked. Within a few hours, we planted 94 native plugs of eastern gamagrass and picked up about 1,000 pounds of trash! It was truly a wonderful sight to see not only the park after the major cleanup, but also to see our community come together to help restore our park.
As the event wrapped up, the volunteers began to leave. My fellow River Watchers and I gathered around a picnic table to enjoy lunch. We all shared what we considered the best thing about the day, and we all agreed that this was something that we will all do again!
Juntos/Together Exhibit Showed East Austin Success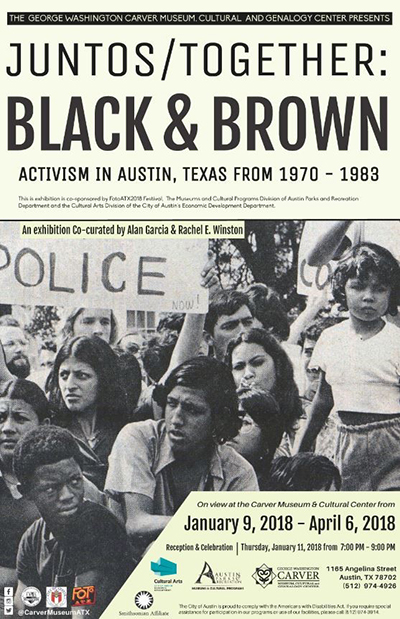 The Juntos/Together: Black and Brown Activism in Austin, Texas From 1970-1983 exhibit was on display from early January to early April at the George Washington Carver Museum's Cultural and Genealogy Center in East Austin.
The exhibit showcased collaborations between Latino and African American activists that brought attention to various injustices in the East Austin community, including lack of access to government aid and environmental concerns.
The exhibit showed how groups like the Austin Brown Berets, a local Mexican-American grassroots organization, and the Black Citizens Task Force, an African American socio/economic justice group, leveraged their power to create a better environment in East Austin. In the 1970s, these and similar groups fought to end the Town Lake boat races, which were polluting Town Lake (now called Lady Bird Lake) and causing riverbank erosion.
Many of these changes might not have been successful if the groups had not unified their messages. Through organized networks, they were able to find resources needed to resolve these issues. The exhibit provides an in-depth look at these alliances and how they helped to bring about positive responses to social, economic, and environmental problems facing the East Austin community.
The Juntos/Together exhibit was curated by archivists Alan Garcia, founder of ATX Barrio Archive, an Instagram account that documents and celebrates East Austin's Black and Chicano history, and Rachel E. Winston, Black Diaspora Archivist at the University of Texas LLILAS Benson Latin American Studies & Collections.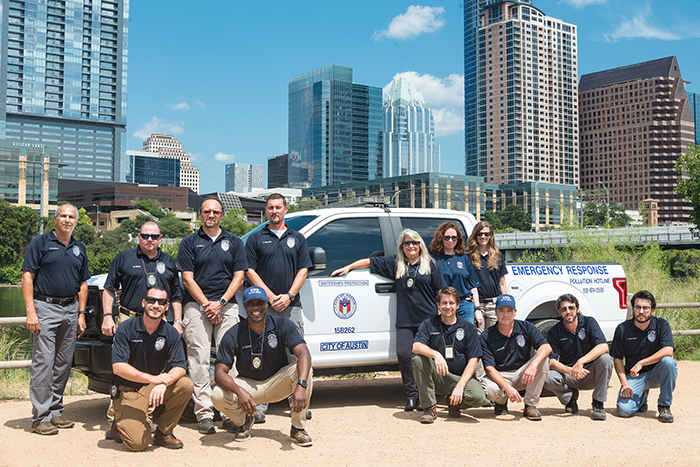 Sharon Cooper (photo center), who managed the Watershed Protection Department's Pollution Prevention and Reduction section and was instrumental in creating the East Austin Environmental Initiative, has retired after 30 years of service with the City of Austin. Our creeks and lakes are cleaner and healthier because of her management. We are grateful for her hard work and extend our best wishes for a wonderful future.
Tannehill Branch Creek at Givens Park – Upcoming Erosion Repair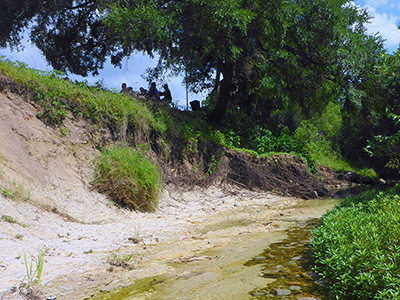 Givens Park picnic area threatened by erosion of Tannehill Branch Creek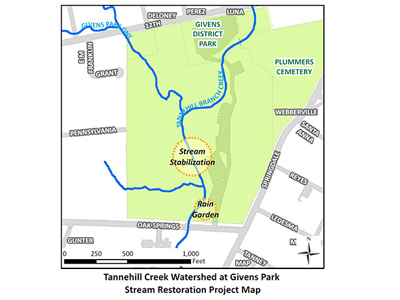 Tannehil Creek Watershed at Givens Park - Stream Restoration Project Map
The City's Watershed Protection Department (WPD) is planning improvements for a portion of Tannehill Branch Creek that runs through Givens Park in East Austin. The park is named in memory of Dr. Everett Givens, who was a well-known East Austin dentist and civic leader. Next to the park is Plummer's Cemetery, a historically African American cemetery established in the late 1800s.
Severe erosion along the creek has damaged portions of the park. While erosion, the loss of soil by moving water, can be due to natural causes, severe erosion is usually due to increased or new development nearby. In Givens Park, erosion has caused the creek to widen and could cause the loss of large trees and a park picnic bench. Additionally, WPD environmental studies show that Tannehill Branch Creek suffers poor water quality.
This project will restore a 300-foot-long section of Tannehill Branch Creek that is downstream of the Givens Park pavilion. The project will stabilize the creek bank and revegetate the area around the creek with native plants. Additionally, a shallow rain garden will be constructed at the southwest corner of the parking lot near Oak Springs Drive. This garden will capture and filter stormwater from the parking lot, helping reduce pollution and creekside erosion.
The project is currently being designed, and construction is expected to begin in late 2018. For more information, visit www.austintexas.gov/tannehillbranchcreek.
[Re]vers Pitch Competition Announces 2018 Winners!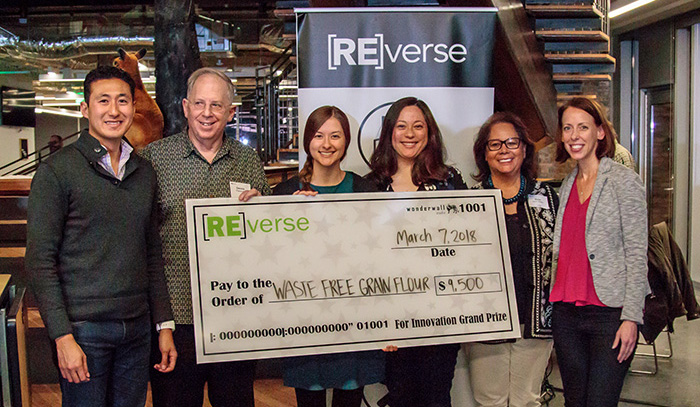 [Re]Verse Pitch Competition Winner Waste Free Grain Flour.
The [Re]Verse Pitch Competition program, funded by the City of Austin, encourages the reuse of a company's discarded, but otherwise valuable, waste material into a new product. The program supports Austin Resource Recovery's goal for Austin to reach zero waste by 2040.
Many businesses regularly dispose of items no longer needed. However, unwanted items, such as empty wine bottles from a wine tasting room, oyster shells from a seafood market, or bags full of cloth scraps from a garment factory, can be repurposed. A resourceful person or company can contact the business and offer to make something useful with those items.
For the past three years, the [Re]Verse Pitch Competition has offered the opportunity for inventive folks to compete to see who can come up with the best use of waste material. The competitors work with mentors and advisors to develop business ideas. Two winners receive cash prizes from a $20,000 prize pool and receive services, such as business incubation and coaching, to help them start their new venture.
This year, the winners were Waste Free Grain Flour (Seed Stage Innovation Prize and People's Choice – Seed Stage), Evo Conversion Systems, LLC (Growth Stage Innovation Prize), and Classic Childhood (People's Choice – Growth Stage).
Congratulations to the winners and all the competitors! For more information on the [Re]Verse Pitch Competition, visit www.reversepitch.org or email Natalie Betts.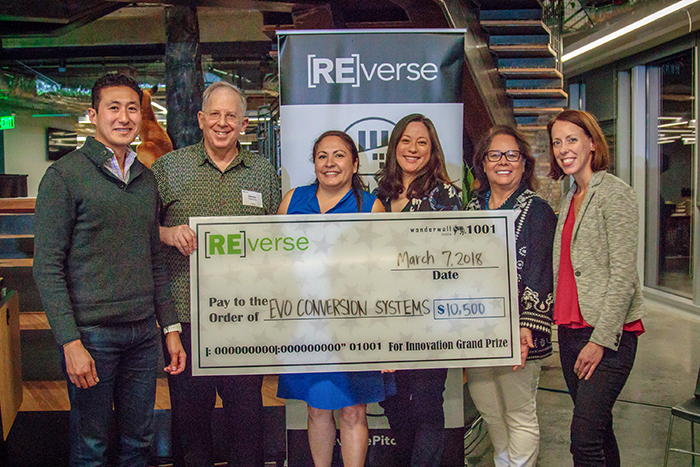 [Re]Verse Pitch Competition Winner Evo Conversion Systems
Blackland Prairie Study In East Travis County
For many years, the City of Austin's Watershed Protection Department (WPD) has studied trees and other vegetation that grow along local creeks. These vegetated areas along the water are called "riparian buffers," and they benefit our creeks and river by improving water quality and preventing erosion. Most of WPD's riparian buffer studies have been in central and west Austin; however, a recent study took place in far eastern Travis County, around and east of U.S. 183. This area, located in the Blackland Prairie region, has deep, fertile soils and is mostly agricultural. WPD's goal was to document conditions of the creeks and their riparian buffers before major development occurs there.
The results of the study surprised WPD staff, who expected to find forested land along the creeks in this less-developed area. Instead, these riparian buffers have much less plant diversity and fewer trees compared to more developed areas in central Austin (scoring, on average, half that of urban Austin sites). Even with little development in these Blackland Prairie watersheds, erosion has negatively impacted the area's creeks. Severe erosion has caused the creek banks to be too dry to support strong vegetation. The lack of surrounding vegetation enables rainwater to enter the creek in powerful surges, leaving the creeks unable to support healthy aquatic habitat. WPD hopes these findings and further investigations will guide improvements to the City's regulations and policies. These efforts will help restore watershed function to these degraded riparian buffers and protect them from future damage.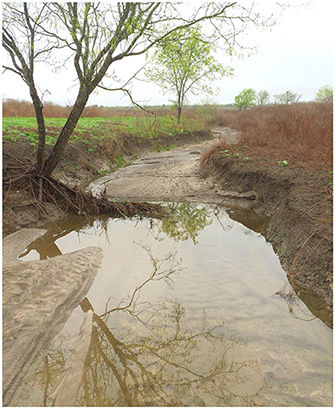 Creek banks without enough vegetation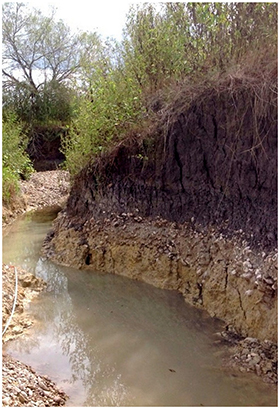 Creek with severe erosion