East Austin Environmental News (Fall/Winter 2018)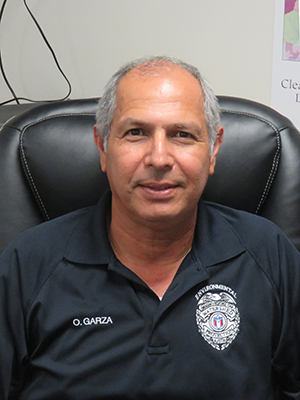 Oscar Garza
Field Notes
Welcome to the latest edition of the Eastside Environmental Newsletter! This newsletter's goal is to keep the East Austin community informed about environmental activities, projects, and community outreach events in your neighborhoods. The City of Austin has committed to keeping you informed for more than 25 years.
In this issue, you will find articles about our progress on two recent developments: the revitalization of the Montopolis Recreation Center and the Colony Park community development planning.
The Sierra Club of Texas recently presented the East Austin Environmental Initiative (EAEI) with their Environmental Justice Award. EAEI is honored to have received this recognition as we continue with our goal to help the East Austin community resolve environmental issues.
In addition, we congratulate Chuck Lesniak, a founding member of the EAEI program in 1993, on his retirement from City service. We wish him well.
As always, please feel free to contact me, Oscar Garza, at 512-974-1893. Enjoy the articles and help us share what's going on in East Austin.
From "Brownfield" to Butterfly, Montopolis Park Begins Transformation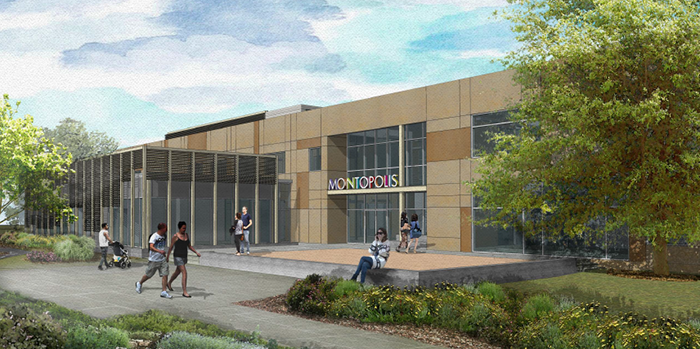 The future Montopolis Recreation and Community Center.
A metamorphosis will soon begin at Montopolis Park. A cornerstone of East Austin for decades, two aging facilities in this timeworn park will transform into a new recreation and community center, which will be a crown jewel among eastside parks.
Fifty years ago, this location at 1200 Montopolis Drive was home to a local gas station. Brownfields are abandoned or underused properties that were once the site of, or are located near, a business (such as a gas station, dry cleaner, or chemical plant) that used chemicals or potentially harmful substances. Before redevelopment or use, experts must test the buildings, land, and groundwater for lingering toxins and, if needed, clean up any potential contamination left behind from previous inhabitants.
In 2017, Austin's Brownfields Revitalization Office performed testing in and around Montopolis Park. They first completed a Phase I Environmental Site Assessment (ESA) at the park, which identified an area's prior use as a gas station. A second ESA confirmed that no gas or related chemicals had reached groundwater. Finally, they performed an asbestos and lead-based paint survey on existing buildings to ensure workers' safety during demolition. The survey identified asbestos in the building, which was removed and properly disposed of before demolition.
When completed, the revitalized, 33,000 square-foot recreation and community center will feature a commercial kitchen, multisport gymnasium, fitness room, track, teen space, computer lab, conference rooms, and educational programming areas. This new facility is currently projected to open in spring 2020.
The Brownfields Revitalization Office receives grants from the Environmental Protection Agency to provide property owners with free assessments of properties to determine potential risk, plus low-interest loans for any necessary cleanup. For more information about the recreation and community center project, please visit www.austintexas.gov/department/montopolis-recreation-and-community-center-project.  If you have questions about brownfields or the steps the City of Austin took to clean up Montopolis Community Center, please email brownfields.
Preserving Our City's Forest… Think Trees!
The urban forest provides social, ecological, and economic benefits that greatly enhance the quality of life in Austin, so the City encourages community members to "Think Trees!" City of Austin Urban Forester Emily King notes, "Just like the parks where we play and the bike lanes we use to commute to work, our urban forest is a community asset."
Below are a number of ways that you can get involved in supporting Austin's urban forest!
APPLY FOR AN URBAN FOREST GRANT: This grant was created to support tree projects across Austin that benefit the urban forest ecosystem and strengthen community connections to nature and each other. Learn more and apply at www.bit.ly/UFGrant..
GET FREE TREES: Planting trees around your home will lower your energy bills, make your home more beautiful, and clean the air you breathe. Through the NeighborWoods program, City of Austin residents are eligible to receive free trees!  Visit www.bit.ly/freetreeatx.
EDUCATE YOUR SCHOOL OR COMMUNITY GROUP: Interested in having the Community Tree Preservation Division present in your classroom or at a community meeting? Contact Conservation Program Coordinator Aimee Aubin.
VISIT THE TREE INFORMATION CENTER: This webpage provides answers on how to get involved in our urban forest, understanding Austin's tree ordinances, protecting your trees, and more. Visit www.austintexas.gov/trees.
CONNECT ON SOCIAL MEDIA: Austin Nature in the City promotes upcoming events and news from nature-based programs across the city. Follow @naturecityatx on Instagram and Twitter, or follow the Facebook page at www.facebook.com/naturecityatx.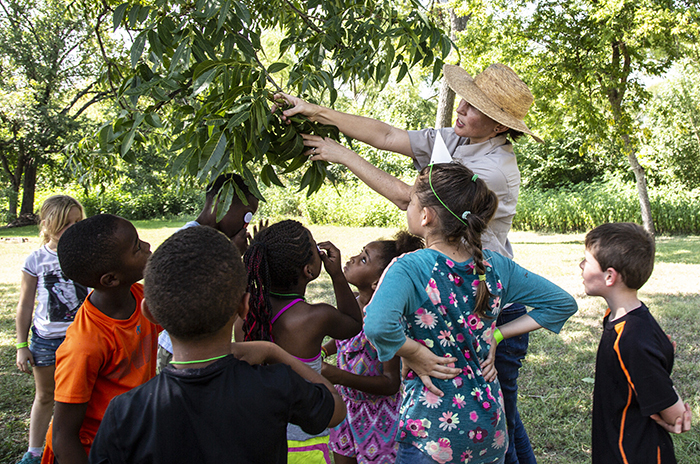 Community Tree Preservation Division staff host a tree education activity at Bartholomew Park.
Colony Park Community Ready for Transformation
The Colony Park subdivision began as a working-class neighborhood that once included Bergstrom Air Force Base troops and veterans. When the air base closed in 1993, most base workers sold their homes. Many of the houses became rental properties of absentee owners who neglected them over time.
In 2001, the City of Austin bought approximately 200 acres next to Colony Park and the Lakeside subdivision near Lake Walter E. Long. Following this purchase, the City set aside 50 of the acres for a regional park. Another portion became the Turner-Roberts Recreation Center and Overton Elementary School.
In 2013, the City won a federal grant to develop a proposal for a master-planned neighborhood on this property. An exciting new Colony Park community is now beginning to take shape. At a recent meeting, the City laid out a vision of a master plan for a mixed-use, mixed-income development that will unite the former Colony Park neighborhood on the west with the Lakeside neighborhood on the east. Residents and planners will work together on the area's development.
The plan calls for a mixture of single-family homes, town homes, commercial use, and park space. Residents and planners are discussing the addition of a health clinic and a Capital Metro Rail station that would run from Elgin to downtown Austin. Catellus Development Corporation, the same organization that transformed Austin's old airport into the Mueller neighborhood, is the recommended Colony Park Master Developer.
To find out more about the Colony Park project and to sign up for the newsletter, visit www.colonyparkatx.org.  Follow the Colony Park Sustainable Community Initiative on Facebook at www.facebook.com/CPSCI/.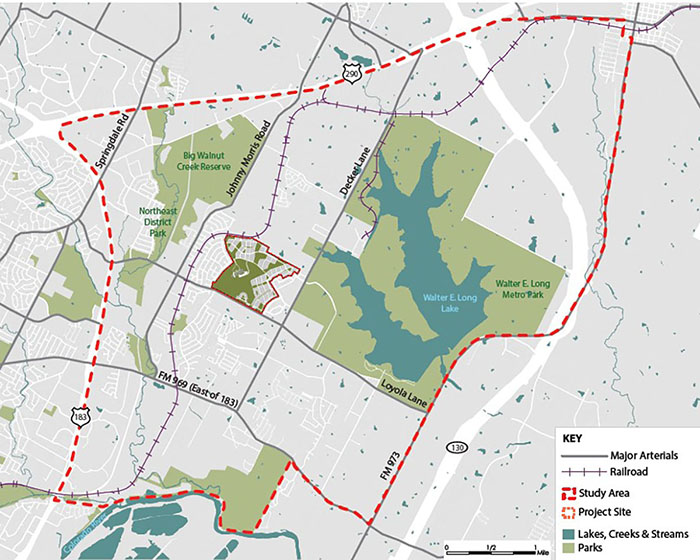 Colony Park is a subdivision in far East Austin, off Loyola Lane between US 183 and the Texas 130 toll road.
Leaving a Legacy of Success
Chuck Lesniak, City of Austin Environmental Officer, retired after 28 years with the Watershed Protection Department. He was charged with ensuring environmental protection as the highest priority in public and private development. Mr. Lesniak was instrumental in creating the East Austin Environmental Initiative (EAEI) program in the early 1990s. He provided valuable services to the community during the crucial period of the Tank Farm remediation. The EAEI team is grateful for his outstanding public service and dedication. We extend our best wishes for a wonderful future.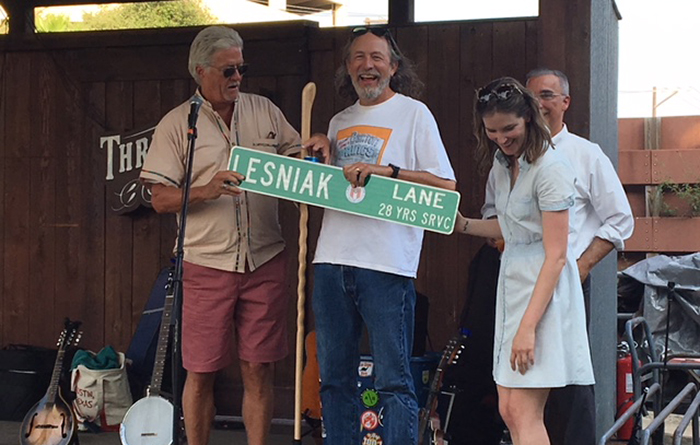 The Watershed Protection Department recognized Chuck Lesniak (photo center) at his retirement party.
East Austin Environmental Initiative Receives Sierra Club Award
In spring 2018, the East Austin Environmental Initiative (EAEI) received the Sierra Club Lone Star Chapter's Environmental Justice Award for outstanding service to the East Austin community. This award recognizes individuals or organizations that have performed outstanding work in identifying and addressing environmental problems with a disproportionately adverse effect on communities of color and/or low-income communities.
Oscar Garza, coordinator of EAEI, a program of the City of Austin Watershed Protection Department, accepted the award on behalf of the City. The EAEI program helps residents and organizations address environmental challenges and promotes environmentally sustainable activities and achievements in East Austin.  In his role as coordinator, Mr. Garza has helped communities clean up several waste dump sites, including the recent Red Bluff. He also led the multi-year cleanup at Homewood Heights, next to a former incinerator waste dump. This East Austin neighborhood off Rosewood Avenue now boasts a beautiful hillside with trees and a community garden.  Mr. Garza has facilitated vital communication and awareness of East Austin success stories through the Eastside Environmental Newsletter and is also a member of the City's Pollution Prevention and Spills Response Team.
The Sierra Club is the oldest and largest grassroots environmental organization in the United States and has a long track record of sustainability actions, including passing laws to protect open spaces and natural resources and establishing the National Parks System.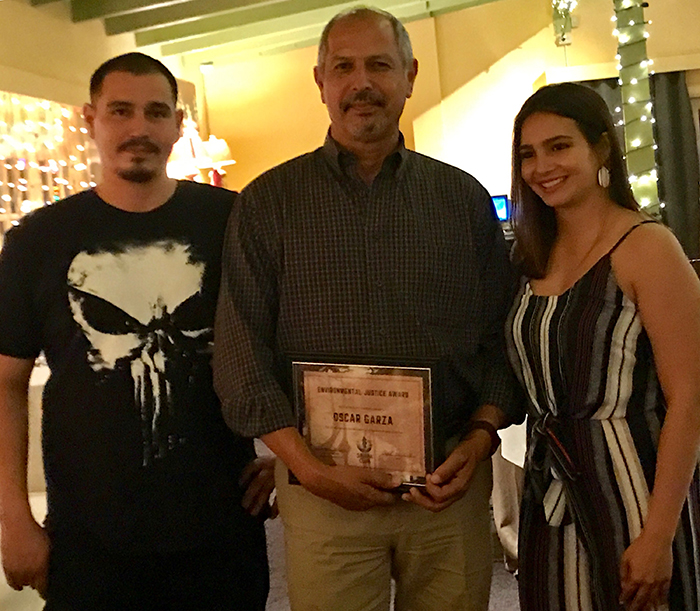 Oscar Garza receives Sierra Club Award on behalf of the East Austin Environmental Initiative.