East Austin Environmental News (Fall/Winter) 2017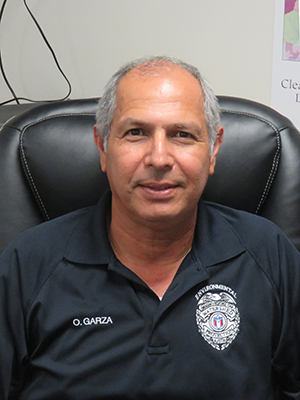 Field Notes
Welcome to the latest edition of the Eastside Environmental Newsletter! This newsletter is part of our continuing effort to inform the East Austin community about environmental activities, projects, and community outreach events around town. We've been writing these newsletters for almost 20 years!
In this issue, you can read how the City took a giant step forward with its commitment to environmental justice by creating the new Equity Office and how a new grant is helping revitalize blighted properties in East Austin. You'll also find out about award-winning teacher Sam DeSanto and the green projects he, his students, and fellow staff have created on the campus of Brooke Elementary School.
As always, please feel free to contact me, Oscar Garza, at 512-974-1893. Enjoy the articles and help us share what's going on in East Austin.
Oscar Garza 512-974-1893 email If you would like to receive this information electronically twice each year, please visit www.austintexas.gov/PollutionPrevention – in the Public Awareness Programs section (middle of page), click the "Subscribe to the biannual newsletter" tab.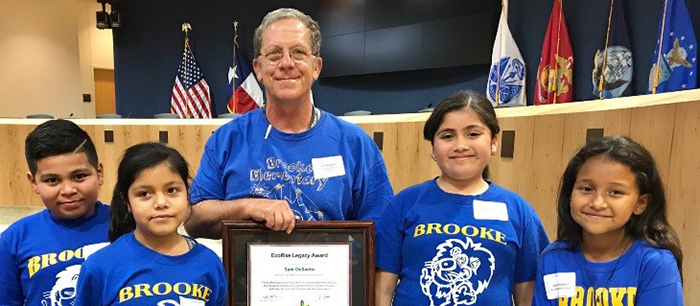 Mr. DeSanto and some of his students pose with one of the awards earned in 2017.
Chickens and Rabbits and Bees, Oh My!  Brooke Elementary wins Ecorise Awards
Brooke Elementary School stands on Tillery Lane near a handful of busy auto repair shops. A row of tall sycamore trees stands guard along the school's chain link fence, as if to protect the campus from the noise and commotion of the city. These trees are only a small part of this remarkable campus. Brooke's unconventional grounds boast flowers, miniature ponds, and chicken coops.
Students here learn about life cycles as they tend their own vegetable gardens and the many fruit trees on campus. They learn about nature as they chase butterflies that are attracted to the flowers that students planted in the school yard. They take care of their chickens, rabbits, and ducks. The school sells honey, vegetables and chicken eggs at their studentdriven farmers' market. Proceeds of the sales are given to the Parent Teacher Association (PTA) for school improvements, and students learn invaluable lessons in the outdoor learning environment.
Austin-based nonprofit EcoRise, which teaches sustainability, design innovation, and social entrepreneurship, recognized Brooke Elementary School with two awards in 2017. EcoRise gave their first-ever Legacy Award to Brooke's reading teacher Sam DeSanto. Mr. DeSanto has guided students and the community in creating a very impressive living campus for the past 18 years. EcoRise gave the second award, funded by the City's Office of Sustainability Bright Green Future Grants program, to Mr. DeSanto's students for their Beehive Education project. The National Wildlife Federation has also recognized Brooke as part of their Eco-Schools USA program, which helps schools and students integrate sustainability into the curriculum and onto school grounds.
Congratulations to Brooke Elementary School and Mr. Sam DeSanto on the Eco- Rise awards! Keep up the great work!
In Remembrance of Romeo Rodriguez
The East Austin Environmental Initiative team remembers and honors local journalist and publisher Romeo Rodriguez, who passed away in March 2017. Mr. Rodriguez founded Austin's bilingual ARRIBA Newspaper, which he produced for over 37 years. It covered issues important to the Latino community, including health care, politics, culture, and the arts. His groundbreaking work inspired new journalists to follow in his footsteps, and the newspaper he founded shed a bright light on Austin's multifaceted Spanish and bilingual cultures.
City's New Equity Office to Address Equal Representation
Cities across the United States, including Austin, are looking for innovative ways to create equality for their citizens. Austin recently joined Seattle, Portland, Washington D.C., Boston, and San Antonio by creating an office that specifically addresses equity issues.
In a 2015 memo, Austin Mayor Steve Adler proposed that City Council discuss the idea of creating an office to address equity issues. "While Austin prides itself on being a wonderful place to live, due to a number of inequities, it can be a difficult place for people of color," he wrote. The Hispanic/Latino Quality of Life Resource Advisory Commission was instrumental in getting the Equity Office off the ground, and City Council approved $183,000 to get the office started in 2016.
Austin's new Equity Office, headed by Brion Oaks, focuses on hiring issues and funding allocation. It is also responsible for monitoring other equity problems citywide. Mr. Oaks comes to Austin from a long career with the American Heart Association, where he focused on minority communities' access to health care. Former City Manager Mark Ott said, "It's clear to me that his work in that area will serve him well as he helps guide Austin to a more equitable future for all our residents and employees."
Citizens can access the Equity Office by calling the program coordinator, Gabriella Beker, at 512-974-9077.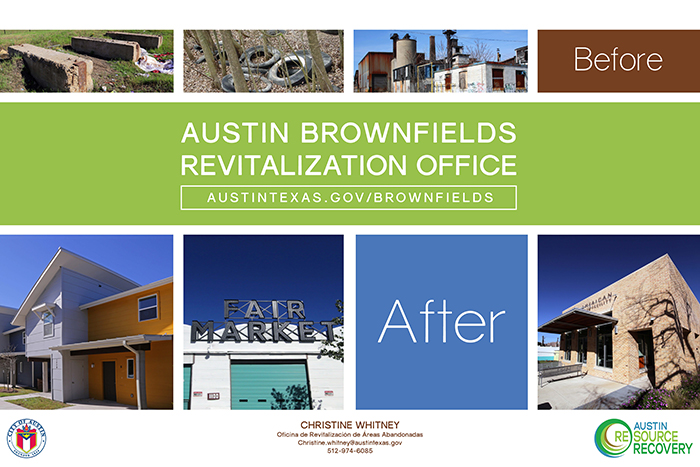 EPA Grant to Benefit East Austin
The City of Austin has received an Environmental Protection Agency (EPA) grant to help clean up contaminated land in East Austin. The Brownfields Revitalization Office, an Austin Resource Recovery program that began in 1998, will administer the $820,000 grant.
Brownfields are properties that are abandoned or underutilized. These properties are difficult to redevelop because of real or perceived environmental contamination. The 1928 Koch and Fowler City Plan, which included poor zoning restrictions, permitted industrial facilities such as power plants, fuel tank farms, and cement plants to operate in East Austin. The result of that plan is hundreds of brownfield sites in East Austin that hinder redevelopment.
Traditional banks may not fund redevelopment for brownfields.
EPA loans bridge the gap between cleaning and redevelopment. The loans will be interest-only until the cleanup is complete. Borrowers can have their businesses up and running before repayment is required. The grant will also make it easier for property owners to receive a traditional loan once the environmental issues are resolved.  Such loans will provide funds for public or private entities to develop properties that can provide a public benefit, such as a public park, affordable housing, or local jobs.
"This revolving loan fund grant means we will now be able to assess properties, clean contamination and remove barriers to community redevelopment," said Christine Whitney, the City's Brownfields Revitalization Program Manager. "Helping facilitate land recycling is just one way we are responding effectively to the high expectations of our community."
Property owners or prospective buyers who have discovered contamination at a site can apply for a cleanup loan online at AustinTexas.gov/brownfields.
Austin Energy Piloting Innovative Energy in East Austin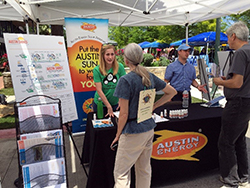 Austin Energy reaches out to the community to introduce its solar energy project.
Austin Energy is currently working in East Austin to solve one of the world's toughest energy problems: how to store solar energy and make it available for homes and businesses when the sun doesn't shine.
Austin Energy – the city-owned electric utility – received $4.3 million from the U.S. Department of Energy SunShot Initiative to fund the Sustainable and Holistic Integration of Energy Storage and Solar Photovoltaics project (SHINES). SHINES is a pilot program that will test the abilities of solar energy systems, batteries, and smart inverters to store and send solar energy. This innovative study will investigate technologies that could bring the power of the sun to Austin residents, day or night, rain or shine. Additional funding for the program comes from Austin Energy and the Texas Commission on Environmental Quality.
The Mueller and the Springdale Road/Airport Boulevard areas of Northeast Austin are the focus of this innovative, multi-year project. During the study, Austin Energy will tie two energy storage systems directly to Austin's electric grid. One energy storage system pairs a battery with a 2 megawatt community solar farm in the Springdale Road/Airport Boulevard area. The project helps to transform this former home of a toxic-polluting tank farm into a leader in clean energy innovation. The second battery storage project is in the Mueller neighborhood.
By testing the integration of battery storage, solar energy systems, and smart technologies, Austin residents will be part of a bold, nationwide effort to determine the best ways to apply these technologies and reduce costs for everyone.
Visit www.austinenergy.com/go/shines for more information.
East Austin Spirit in the Trees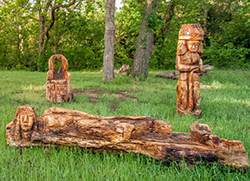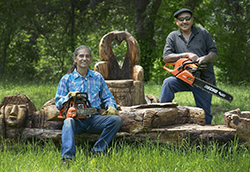 Local artists created sculptures from the dead tree trunks found at the former East Austin Tank Farm site.
When East Austin artist Daniel Llanes saw dead trees at the site of the former East Austin Tank Farms on Springdale Road, he didn't see ruin. He saw potential.
Several major oil companies once kept large vessels filled with petrochemicals on this piece of land. Leaks caused soil and groundwater contamination, and long-time residents of the surrounding neighborhood had to evacuate their homes after an explosion.
In the early 1990s, the East Austin community, led by environmental activist group PODER (People Organized in Defense of Earth and Her Resources), began a herculean effort that resulted in the closure of the now infamous East Austin Tank Farms. After many years of cleanup, developers purchased the site in 2012 and began working on a project called thinkEAST that features a mix of affordable housing and live/work spaces for artists. Last year, during a thinkEast development event, Llanes noticed many dead trees at the site. He thought he could rescue them for a new generation of East Austin residents.
Llanes teamed up with master sculptor Victor Torres to give the trees new life by transforming them into sculptures that honor the neighborhood's history and culture. Llanes and East Austin activists hope the large-scale, tree-trunk carvings will help their community learn about the struggle to close the tank farms. The "Spirit in the Trees" exhibit featured the new sculptures. The sculptures now are located at the thinkEAST development site at 5600 Jain Lane.
Austin Resource Recovery Offers Safe Medication Disposal
Do you have old over-the-counter or prescription medications in your bathroom cabinet that you don't know how to dispose? The City's Austin Resource Recovery department can help.
Austin Resource Recovery has responded to the need for year-round drug disposal by co-sponsoring two medication drop-off bins in Austin. Individuals can drop off unused or expired medications for free and anonymously.
The bins accept pills, creams, inhalers and liquid medications. Items that are not accepted include thermometers, batteries, needles, and illegal drugs. A complete list of items that are and are not accepted is available at austintexas.gov/drugs. You can also find more information at this site on how to best dispose of medications if you cannot make it to one of these locations.
Disposing of unwanted drugs securely can benefit everyone. It prevents people from misusing the drugs and keeps them away from children and pets. Safe disposal also protects the environment by keeping medications out of landfills and sewer systems.
Call 3-1-1 or 512-974-2000 for more information.
Drop-off bin locations:
Travis County Constable, Precinct 5
1003 Guadalupe St. Monday - Friday 8:00 am to 5:00 pm
(Short-term parking is available in the parking lot.)
Forty Acres Pharmacy
(inside the UT Student Services Building)
100 W. Dean Keaton St. Monday – Friday 9:00 am to 5:30 pm
(Parking is available in the garage behind the pharmacy.)