East Austin Environmental Initiative (Fall/Winter 2019)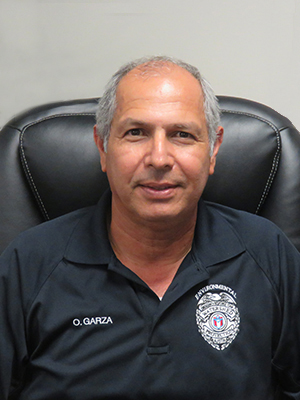 Oscar Garza
Email - PH 512-974-1893
Field Notes
In the spring, the East Austin community suffered the loss of a great warrior for social justice, Akwasi Evans. We feel much gratitude for Evans, who dedicated his life to improving his community. Evans' dedication lives on through the ongoing efforts of many social activists, some recognized nationally and internationally for their work and other, less well-known activists who also play very important roles. It's comforting to know that, despite the loss of Evans, the fight against social inequality remains alive in East Austin. In this issue, we pay tribute to Evans and highlight current community efforts to restore East Austin's Red Bluff Wildlife Preserve.
We're pleased to also bring you an update about the large erosion control project in Roy G. Guerrero Park and to help spread the word about the Austin History Center's drive to collect information.
As always, please feel free to contact me with your feedback and ideas.
Red Bluff Wildlife Preserve Approved for East Austin
The Austin City Council voted to establish the Red Bluff Wildlife Preserve. A 57-acre tract of land between Springdale Road-Airport Boulevard and U.S. Highway 183, Red Bluff offers a stunning view of downtown Austin.
The vision of one lifelong East Austin resident made the planned preserve possible. Pete Rivera grew up exploring Red Bluff, calling it La Loma ("The Hill" in Spanish). The area provided the perfect playground for him and his brothers to explore and hunt rabbits and armadillos. Sadly, the area became an illegal dumping ground for used oil, paint, and construction waste.
Rivera decided to do something. First, he formed the Springdale-Airport Neighborhood Association (SANA). He then asked the Sierra Club's Environmental Justice Team (ATXEJ) to help him raise awareness about the area. He saw Red Bluff as a place that should be protected and benefit the community.
As president of SANA, Rivera also teamed with Public Citizen, another local environmental group. Together, these groups worked diligently to raise awareness of the unacceptable neglect and pollution. Rivera organized a hike to teach people about Red Bluff's history and beauty.
After years of hard work, Rivera's perseverance has paid off with a City Council resolution to clean up and protect Red Bluff for many generations to come.
The City's Urban Trails Program is reviewing La Loma Trail as part of the 2016 Mobility Bond to determine the best route to provide safe walking access and improved connectivity between the existing Southern Walnut Creek Trail and adjacent neighborhoods. The project is located between Airport Blvd and US 183 and would extend through the East Boggy Creek Greenbelt area. To learn more about this project, visit https://data.austintexas.gov/stories/s/La-Loma-Trail/nswa-swke/.

Pete Rivera, President of Springdale-Airport Neighborhood Association, leads a group of environmental activists and citizens on a hike to Red Bluff.
City Receives Grant for Roy G. Guerrero Park Stabilization Project
In 2015, heavy rainfall caused flooding in many of Austin's creeks, including Country Club Creek West, where severe erosion destroyed a pedestrian bridge, damaged a wastewater line, and destabilized the creek bank.
The area's flooding and erosion problems began in the 1970s, before Austin had developed floodplain and environmental regulations. The City split the original Country Club Creek to direct floodwaters to the Colorado River and to allow for development on Riverside Drive. Water flowing from this area to the Colorado River cut huge gullies through the park. Erosion eventually caused the bridge to collapse and threatened the nearby softball fields.
The Federal Emergency Management Agency (FEMA) awarded $8.4 million to the City for storm-related repairs. This stabilization project will include three large concrete structures, or "steps," that cause the creek water to flow more slowly to the river. The steps will decrease the powerful force of the water as it plunges downstream and will protect the creek from further erosion. Between each step, native plants will be added to the channel to improve the scenery and provide a home to wildlife. The design phase for this project is expected to be complete in early 2020.
The City's Watershed Protection and Parks and Recreation Departments will work together to rebuild the bridge, reconnecting a section of the hike and bike trail in Roy G. Guerrero Colorado River Metropolitan Park.
For more information visit https://austintexas.gov/countryclubcreek.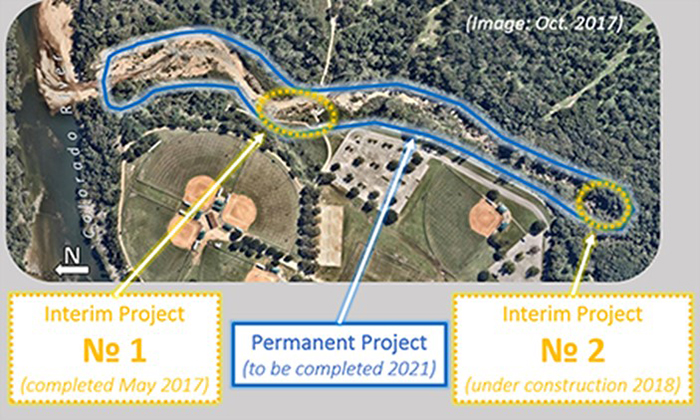 Overview of the stabilization project
Community Archivists Program Seeks Historical Information
The Austin History Center's Community Archivists Program (CAP) is designed to collect and preserve the history of underrepresented and marginalized groups in Austin and Travis County. By documenting the local histories of African, Mexican, and Asian Pacific American communities, the program ensures that their lives, history, and experiences are recognized and represented.
The Austin History Center accepts donations of personal and family documents, photographs, publications, oral histories, and business records for the collection. CAP also develops programming and events to educate the public about the area's diverse history.
African Americans in Austin: The web project Desegregation in Austin: Five Decades of Social Change includes information and a timeline of major events from 1940 to 1980, developed from local newspapers and other materials covering this extraordinary period of the city's history.
Mexican Americans in Austin: The Mexican American Resource Guide contains valuable materials about Austin's Mexican American communities. Much of this history remains to be documented.
Asian Pacific Americans in Austin: The Asian Pacific Americans Resource Guide provides a general overview of all the Austin History Center's materials related to the Asian American community.
For more information about the Community Archivists Program, visit https://library.austintexas.gov/ahc/outreach.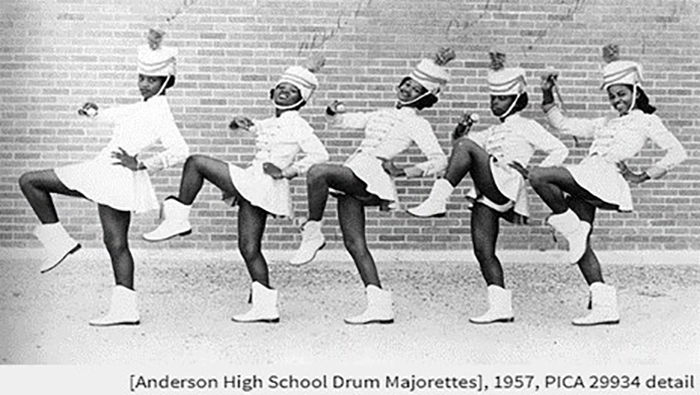 Anderson High School Drum Majorettes, 1957
Tribute to Akwasi Evans an East Austin Activist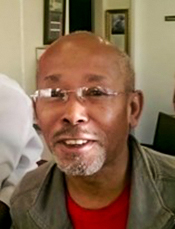 Akwasi Evans
The late Akwasi Evans, who died April 8, 2019, greatly benefited the East Austin community with his passion and dedication for social justice. Evans founded East Austin's NOKOA, The Observer newspaper and served as its editor for more than 30 years.
As a longtime civil rights activist, Evans fought for social justice issues, such as opposing police misconduct and assisting community empowerment. His family and the Austin community remember him as a true servant, giving unselfishly of himself. With both deep sadness and also gratitude, our team honors this great East Austin newspaper man.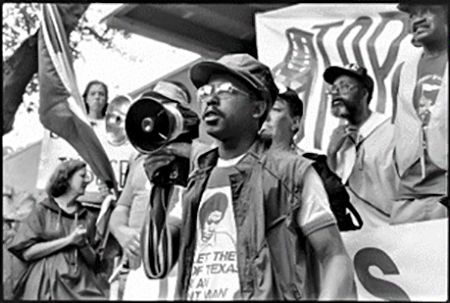 Akwasi Evans: October 17, 1948 – April 8, 2019