December's Park of the Month: Wooldridge Park
Good Things Come in Small Packages
Down on Guadalupe near 10th street, sits a historic little square park with sloping green hills and a quaint white gazebo in its center. Despite its modest size (just a bit over an acre), Wooldridge Square Park looms large in Austin's history.
In 1839, Austin's master plan included four public squares in the downtown area. Today, Wooldridge is the only one of those that remains in use as it was originally intended—as a public gathering place for events, speeches and music. The square has seen a lot in its 100+ years, including a massive community sing-along for WWI soldiers, political speeches from governors and senators (even the future President Lyndon B. Johnson), musical performances, weddings and giant chess games. But the future of this Austin treasure was not always certain.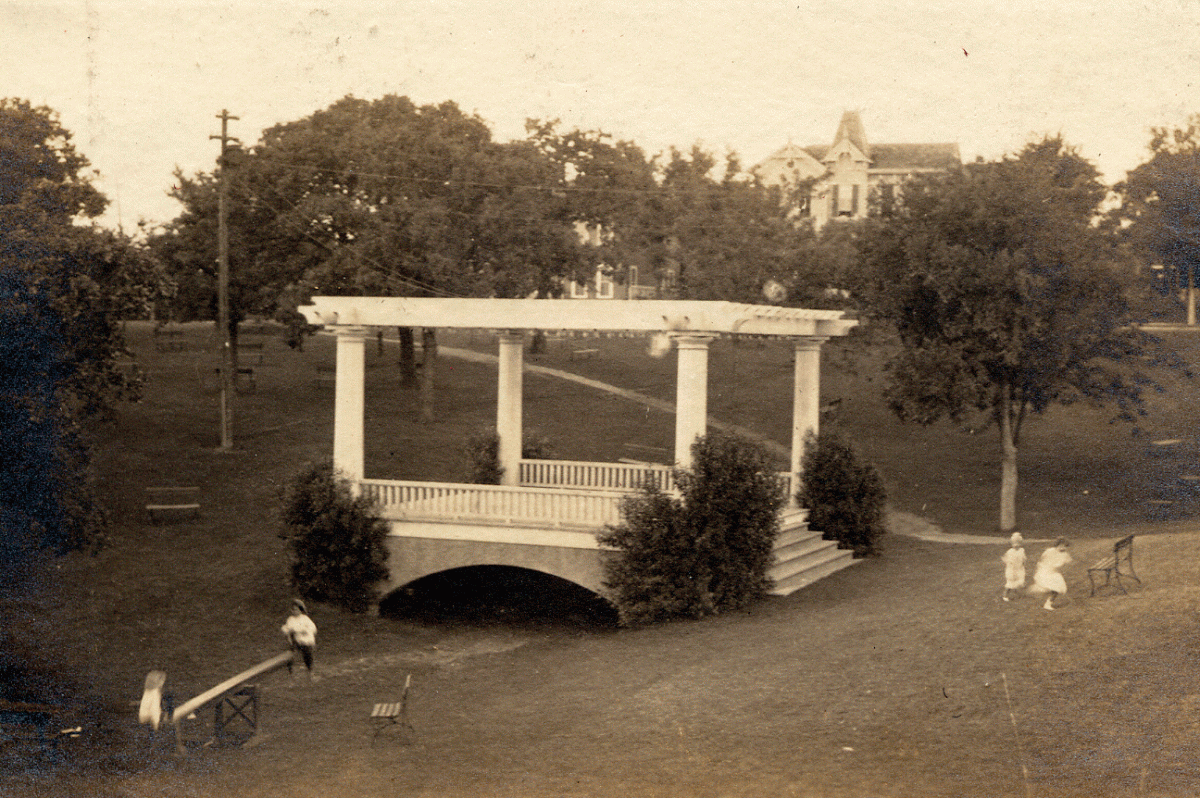 After its initial inception, not much was done with the park and it slowly became an informal dump, with trash and rainwater filling its natural bowl-like shape. However, at the turn of the century, a period of civic pride spurred a new interest in the area and Austin Mayor (and park namesake) A. P. Wooldridge sponsored the cleaning of the square and the construction of the centerpiece gazebo. That was the summer of 1909. Since then, many improvements and renovations have been needed to keep up with the wear and tear of an adoring public. If it's possible for a park to be "loved to death," Wooldridge almost was.
The latest, significant improvements to the park were completed in the summer of 2013. They included:
electrical upgrades
light soil amendment
new irrigation system
new drought-tolerant turf grass
11 new tree plantings
mulch for all existing trees
Friends of Wooldridge Square and the Austin Parks and Recreation Department joined forces to:
install a new mobile vendor pad with electric connection and gravel surface
install five new light fixtures along the interior walkway
install new benches and trash receptacles throughout the park
Additionally, the Friends of Wooldridge, the Austin Parks Foundation and the Parks and Recreation Department repaired and painted the historic bandstand gazebo.
The park reopened with a ribbon-cutting and two days of festivities in September 2013. With the strong support of the community, it seems certain that Wooldridge will never again suffer from neglect. This most recent renovation is just the first phase of improvements for the park. The approval of the 2012 G.O. Bond Program included a $1M allocation for Downtown Squares ($200k of which is anticipated for additional improvements at Wooldridge Square). The next steps will begin in the winter of 2014 with a series of public engagement meetings that will lead to a preliminary design phase for the overall park.
Whether you're a long-time visitor to Wooldridge Park or you've never heard of it, now is a good time to visit. Check out the new improvements and get to know this historical, little gem in the heart of downtown.