Caffé Medici, Gate 6 and Hammer Made Open at Austin Airport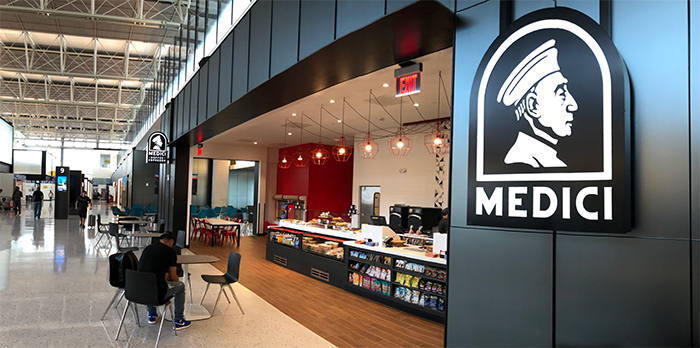 Located near Gate 7, Caffé Medici is the first food and beverage vendor to open in the 9-gate expansion.
Caffé Medici is the first food vendor to open in the 9-gate expansion at the Austin airport. The opening of Gate 6 completes the construction of all six of the new international gates. Hammer Made men's clothing store opens along with a CVS Pharmacy vending machine.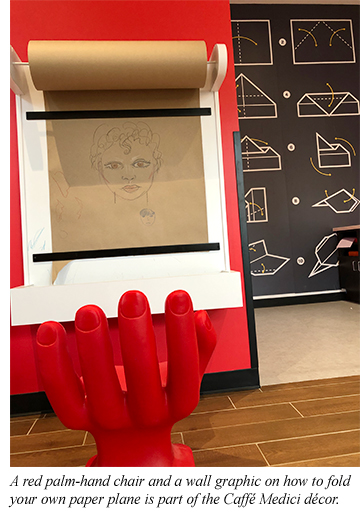 Caffé Medici Opens Near Gate 7
Local espresso and coffee roaster Caffé Medici is now open near Gate 7 and is the first finished-out food and beverage service to open in the 9-gate expansion. Trimmed in tile, customers are immediately attracted to the two red palm-hand shaped chairs at the paper role drawing area. The "express your selfie" wall graphic is an architectural highlight along with how to fold your own paper plane.
The roaster is known for its espresso La Famiglia blend, that is noted for having a sweet and fruity chocolate finish. Its daily coffee offerings include the Clarksville blend and Guji Ethiopia blend that has chocolate, grape, and a honey finish.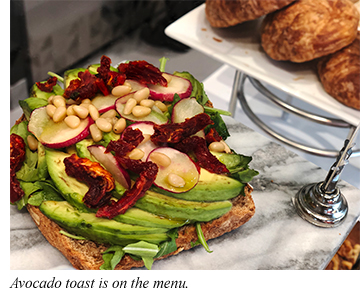 The food menu at the 986 square-foot airport location is highlighted with its avocado toast, loaded with sliced avocados, arugula, sundried tomatoes, and pine nuts on whole-wheat oat toast. Other food offerings include breakfast sandwiches, croissants, seasonal Danishes, muffins and Pan Suisse, a custard-filled brioche. Including the airport location that is operated by Delaware North, Caffé Medici has seven locations in Austin.
Gate 6 Opens, Completing International Entries in Terminal Expansion
Gate 6 is now open in the 9-gate expansion of the Barbara Jordan Terminal. This makes all six international jet bridges that lead arriving passengers through the Custom's sterile corridor operational. The shared-use gate, generally used by WestJet and Spirit, signifies the completion of construction, making six total gates available to receive arriving international flights at the Austin airport.
Phase II of the expansion continues with the removal of three temporary jet bridges used during construction. Each jet bridge was 720, 560, and 440 feet long, respectively. With the closing of Gate 12, work will begin on removing the remaining 300 foot long, temporary jet bridge and more apron work. Only Gates 8, 10 and 12 remain under construction and are estimated to be completed and open by the end of the year.
Hammer Made Offers Men's Fashions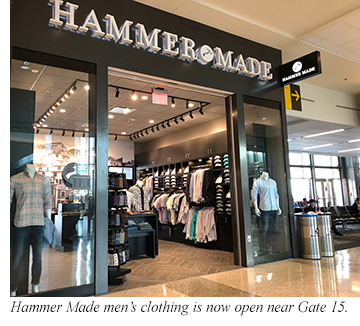 Fashion wear for men is now available at the Austin airport with the opening of Hammer Made, a 550 square foot men's clothing store. Like its parent store, Hammer Made offers men's fashions including pants, limited-run shirts, ties, squares, belts, socks, and other accessories.
Located just beyond Checkpoint 1, next to Gate 15, the store is equipped with a fitting room. The open storefront is a simplistic and monochromatic summit grey with black oak veneer finishes around the perimeter. Entering the store you are greeted by a stylist.
Founded by Jason Hammerberg, the Hammer Made line of shirts includes new arrivals, tailored fit, slim fit, made in Italy shirts, business, and business-casual.
CVS Pharmacy Vending Machine Near Gate 9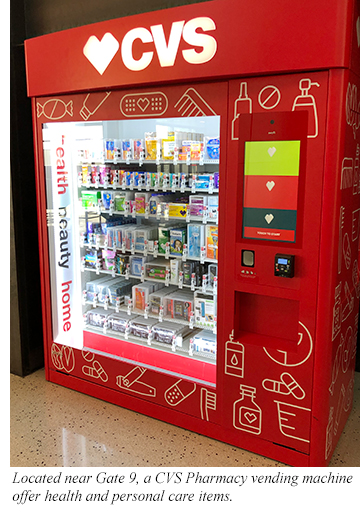 Located near Gate 9, a new CVS Pharmacy vending machine with a 22-inch multi-touch high-resolution screen operates at the Austin airport. The machine is stocked with over-the-counter health products and personal care items including remedies for allergy, pain relief, digestion and treatments for cough and cold. Beauty and care products include shaving cream, deodorant, makeup remover, eye care, and oral health items. Bandages, first aid, antiseptics, and children's health items are also stocked. Batteries, phone chargers, earbuds, and stain removal sticks complete the CVS product offerings.
Vending machines located through the airport include Best Buy Express (near Gates 12 and 23); Benefit Cosmetics (near Gates 14 and 23); High Brew Coffee (Gate 23 and bag claim) and Briggo Coffee (Gates 12 and 17). Other machines such as snacks and drinks are located in baggage claim between Carousels 1 and 2, along with a 24-Hour Flower across from Carousel 2.
Complete list of current airport dining and shopping services available http://www.austintexas.gov/sites/default/files/images/Airport/maps/print_shopping-dining-services.pdf