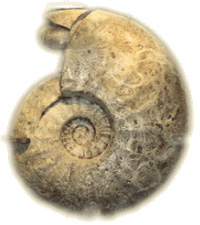 Take a hike along Blunn Creek to open the door of your imagination to a prehistoric Austin when active volcanoes dotted the landscape and gigantic sea creatures inhabited a shallow ocean environment. The Blunn Creek watershed is a jewel of Austin, encompassing a nature preserve, St. Edwards University, Travis high school, Travis Heights elementary school, Stacy Park greenbelt and swimming pool, all in the core of Austin.
Caring for the Creek
The portion of the creek that flows through Big Stacy and Little Stacy Parks is being embraced by the community!
Many thanks to volunteer groups like Little Helping Hands, Austin Parks Foundation, Keep Austin Beautiful, The Stacy Scouts (official Adopt-a-Creek partner), South River City Citizens neighborhood group, and more for cleaning, seeding, and planting seeds along Blunn Creek. Our jewel of a creek is gleaming!
Wildflower Seeding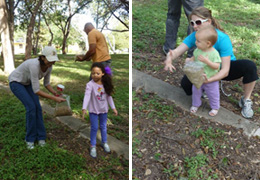 In September and November, 2012, volunteers young and old spread native grass and wildflower seeds throughout the Blunn Creek Greenbelt Grow Zone in the area in between Little Stacy Park and Mariposa Drive, just downstream of   Travis Heights Elementary School and between East Live Oak St and Woodland Ave.
Removing Invasive Plants
In November 2012, volunteers with the Austin Parks Foundation removed approximately 60 to 80 Ligustrum plants, an invasive species and undesirable plant, from a flood risk area; and planted over 200 native tree seedlings along the western bank of Blunn Creek right across from Travis Heights Elementary School.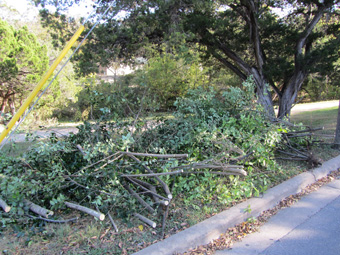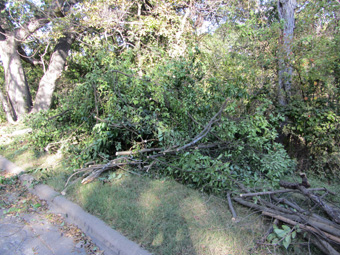 Tree Planting
Over 200 native tree saplings were planted in November and December by South River City Citizens neighborhood group, Austin Parks Foundation and other volunteers.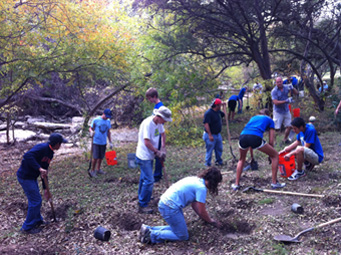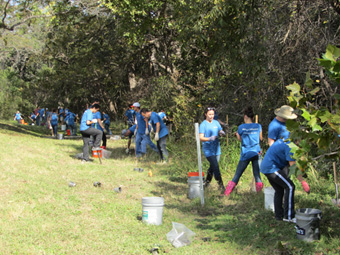 Volunteers needed to water trees
Please contact Todd Jackson, WPD, 512-974-2206, email to help with Blunn Creek.
Website: www.austintexas.gov/watershed/creekside
Adopt-A-Creek: https://keepaustinbeautiful.org/programs/adopt-a-creek
View a map of the Blunn Creek Grow Zone.