Block Leader Profile: Ellie Dikova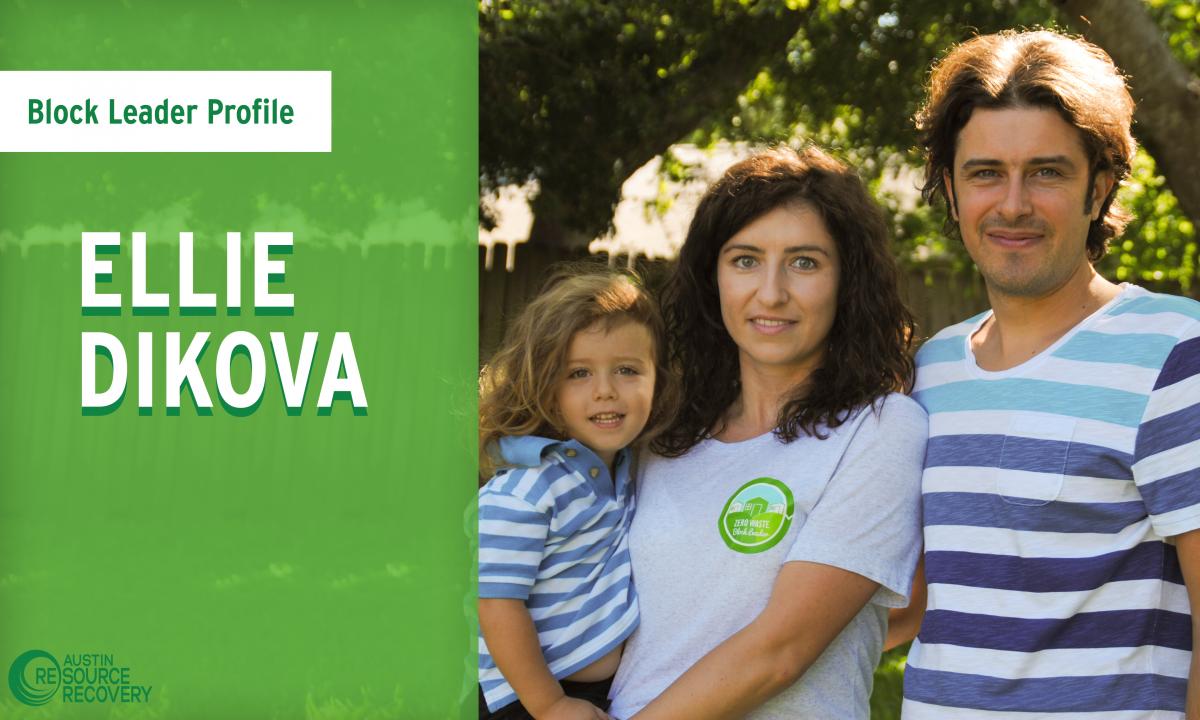 Our Zero Waste Block Leader Profile this month is a triple-feature. Meet Ellie, Damian and their son Darrin —


Back in September 2016, I came across a posting on Nextdoor looking for interviews on recycling habits. During the course of the interview, I learned many new things about recycling in Austin. I was aware of the Zero Waste initiative but thought I should be an expert in recycling and composting in order to apply.The representative I spoke to, however, encouraged me to attend a short training session and signup for the program as all it takes is a little bit of enthusiasm and the will to learn and share with others. I took the challenge and it's paid off. I've meet awesome people volunteering at events and have learned so much about the habits and challenges of recycling in Austin. I feel so happy to see people realize that recycling is so easy to do and that by doing something small, we can make a big difference!

I am a firm believer that big changes start small and from within and I use every opportunity to try and change people's perception about the effect of each and every small thing that we do. Preserving our Big Home from pollution is no exception. I am an outdoors-y person. I love hiking, kayaking, scuba diving, skiing and I really want to be able to enjoy my hobbies and share them with friends all over the world in clean and healthy environment.
I am certain that all our actions, or lackthereof, matter and can make a difference regardless of what part of the world we live or come from. I moved to Austin from Europe 2-years ago and the Zero Waste Block Leader program was a great opportunity to meet people, get to know the city, learn more about its regulations and incentives and share my 'green' passion with Austinites. It is so simple and fun to learn and spread the word!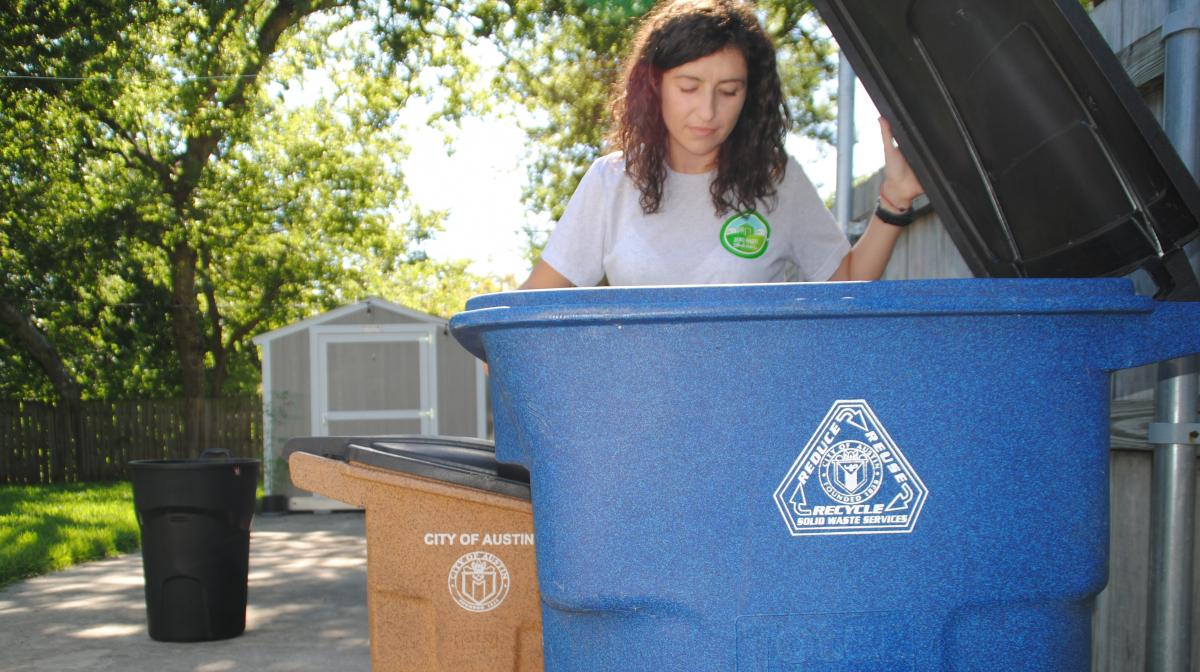 Wearing the Block Leader t-shirt is a great conversation starter! When I hang out at playgrounds with my 3-year old or take our friend's dog for a walk around the neighborhood (especially on days when trash collection is due). I also like to hand out Austin Resource Recovery coloring books to kids that my son meets in the park.


All three! Giving a second life to different items, like electronics, feels great. Plus, it saves a lot of bucks, too! I rarely buy new toys and clothes for my kid as they have short-term usage anyway. Consignment sales and stores are a great way to discover different brands. We also rarely buy new home electronics as we believe most of the 'latest' features are a marketing and advertising sales tactic.


As an overseas transplant, I am used to different recycling rules and routines, like single-stream versus separating recyclables. I learn more as I go and I get to understand the local culture by talking about recycling with neighbors and co-workers. We discuss waste disposal and recycling challenges and share solutions. For example, proper disposal of plastic bags and Styrofoam.


All of our trash cans are located in the same area so it does not need any extra effort to dispose recyclables in the proper can. We also have a small container for mail and paper next to our front door and in the home office. I highly recommend stackable containers that can be used for trash separation!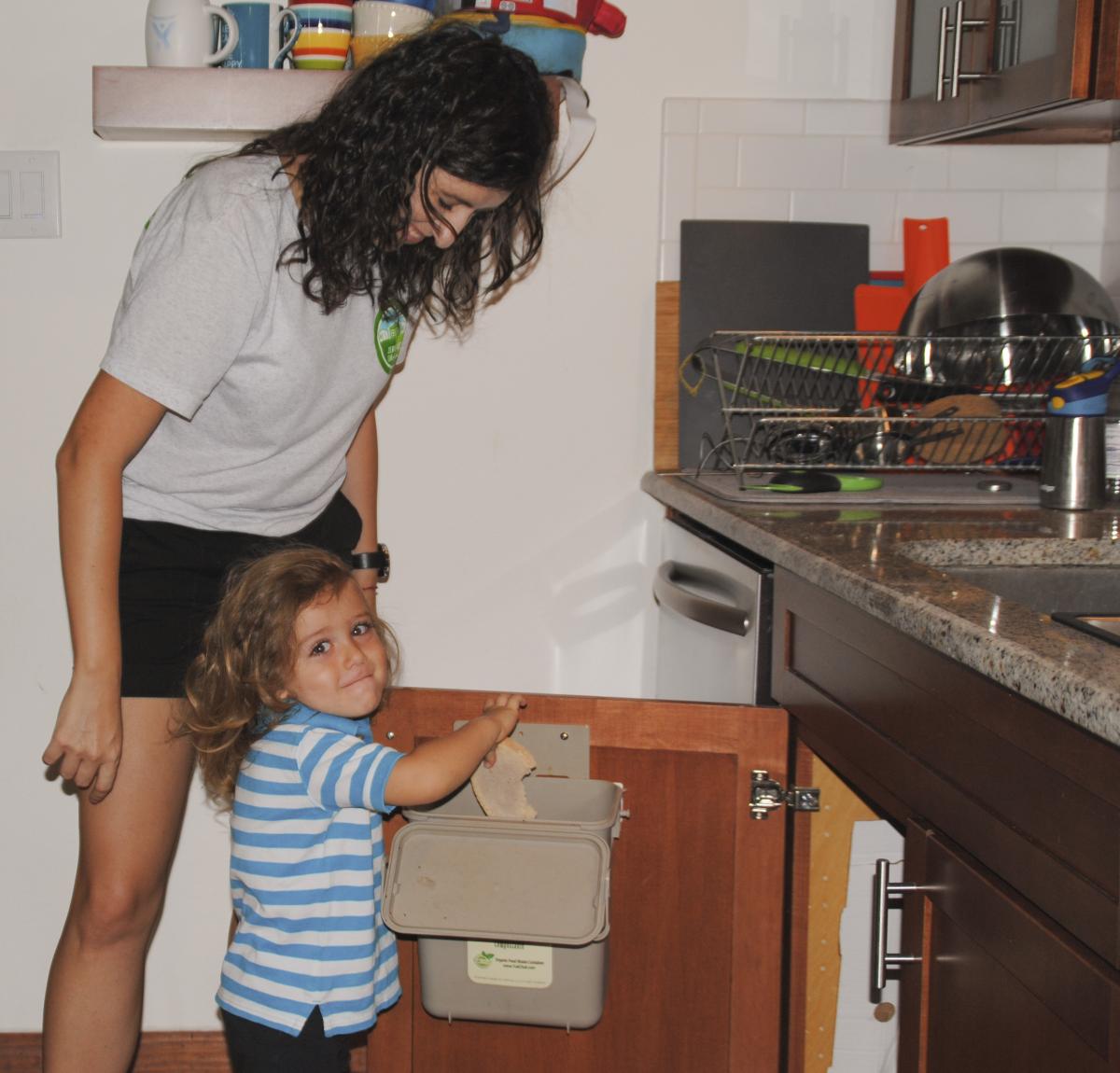 Young kids are so eager to help and learn! I let my son choose the bin that a trash item should go to and then explain why he got it right or wrong. He has a lot of fun projects, both at home and at his school, like making toys out of toilet paper rolls.

Definitely, the kitchen. We also get a lot of cardboard from online deliveries.

Shop in bulk and reuse. Reduce the plastic bags for packing food items (e.g. do not bag fruit) at the store and choose products with recyclable packaging. My reusable shopping bags are always in my car, along with empty containers for bulk items. Ask yourself the question "How bad do I really need this?" before you buy.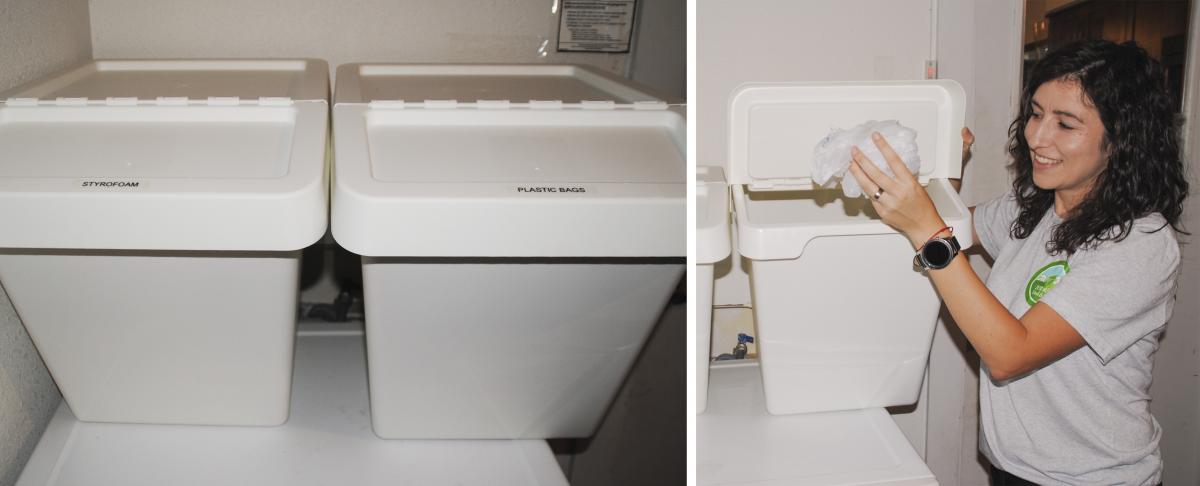 After I started composting a year ago, not much trash is left for our trash bin. I am happy to live near the Recycle & Reuse Drop-Off Center where bulky items, styrofoam and electronics go. They even took care of our old smoke detectors!


From the ZWBL perspective, I am looking forward to the materials recovery facility (MRF) tour and having fun volunteering at events.