Bacteria in Austin Streams: October 2014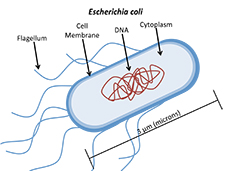 Escherichia coli is a species of microscopic bacteria that is commonly found in the lower intestine of warm blooded animals. Many strains of E. coli are harmless, but some are pathogenic or disease causing when ingested. The bacterium is shed through the intestinal tract and deposited into fecal material, which is the primary source of E. coli contamination in waterways. E. coli can be introduced into waterways by direct deposition of mammalian waste from pets, wildlife, livestock, and humans or stormwater runoff transporting that waste into lakes or streams. Other aspects of urban and suburban life such as aging wastewater line infrastructure and failing septic systems can contribute to E. coli contamination as well.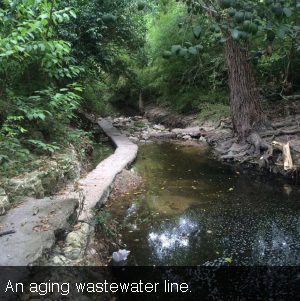 To Swim or Not to Swim?
The state of Texas uses E. coli as an indicator organism for bacterial pollution and monitors its concentrations in waterways to evaluate water quality for recreational uses such as swimming, tubing, kayaking etc... In other words, the greater the concentration of E. coli, the greater the probability that other pathogenic bacteria inhabit the water at significant concentrations which may pose a health risk. The City of Austin Watershed Protection Department (WPD) routinely monitors E. coli concentrations in the city's creeks and lakes to evaluate their contact recreation status.
Unfortunately, some watersheds in the Austin area have had historically high E. coli concentrations that chronically exceed state contact recreation criteria of 399 colonies per 100 mL of water for a single sample. This past summer WPD conducted a study in specific sections of seven creeks in an attempt to identify and resolve sources of elevated E. coli contamination. These seven sections of Blunn, Boggy, Buttermilk, East Bouldin, Fort Branch, Little Walnut, and Waller creeks were selected using a prioritization analysis of a 20 year historical E. coli data set collected by WPD. Creek sections were inspected and sampled at multiple locations in an effort to better geographically isolate sources of E. coli contamination.
Among other findings, a leaking wastewater line flowing into Blunn Creek was discovered and fixed as a result of this study. Areas of elevated concentration have been identified in other creeks as well and investigation is currently ongoing. Other challenges faced when attempting to identify sources of elevated E. coli concentration include discharges of storm drains with high E. coli concentrations. Storm drains can act as black boxes with a variety of inlets that are difficult to trace, especially in older infrastructure. These culvert networks are designed to capture and transport stormwater to nearby creeks, which then flow into our local lakes.  However, these drainage networks may also act as conduits for bacterial contamination via wildlife inhabitants and nearby leaking wastewater infrastructure. In other words, water flowing from culverts may receive a variety of bacterial sources, and be of inconsistent quality. Therefore, WPD continues to monitor and investigate storm drain outlets that have been identified as potential contamination sources in order to determine trends in bacterial loads and determine what corrective action should be taken to resolve a potential contamination issue.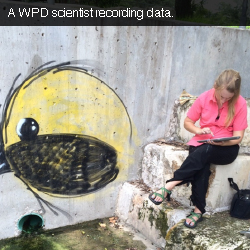 Love water recreation? Here's how to help:
Scoop the poop-One pile of pet waste might not seem like a lot; however, more than 215,000 dogs live in Austin, generating 100,000 pounds of waste throughout the city every day.
Volunteer to help restore our creeks and improve creekside habitat which helps filter harmful bacteria.
Volunteer to mark stormdrains