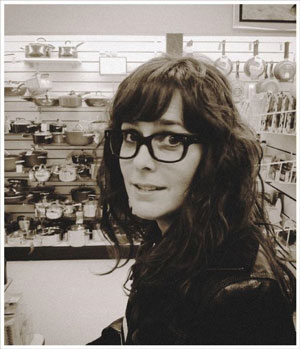 Visual artist Autumn Ewalt was one of 24 local artists who participated last fall in Artist INC Live Austin, a unique eight-week training program that addresses the specific career needs and challenges of artists. Autumn has been commissioned by the City of Austin for two permanent public art projects as part of the artist team Animalis. As an individual artist she created a temporary installation in Gaines Creek Park for TEMPO 2013/14, the City's temporary public art program. Her TEMPO artwork, i see you/you see me, received an Austin Critics' Table Award nomination for Best Work of Art: Independent or Public Project.
Applications for the 2015 session of Artist INC Live are open through July 6, 2015 at austintexas.gov/artistincatx.
The Cultural Arts Division's Creative Industries Development Manager, Jim Butler, interviewed Autumn for this blog.
Jim Butler: Please describe your art, including current projects you are working on.
Autumn Ewalt: My background is in ceramics and sculpture, so I'm always working with mixed media, but I'm also loyal to the practice of drawing. I've also become pretty involved with public art over the last few years, so my work navigates both the public and the private. I love making smaller works that are more intimate and require a different kind of attention from the viewer. And I find it really interesting to make public works, because it pretty much defies all museum and gallery rules for viewing work. Everybody wants to touch art, so making public art allows that to happen, and it makes the experience available to everyone in everyday environments. Creatively, it gives me the unique opportunity to work with a team and take chances with works that are site-specific that I wouldn't otherwise be able to even consider. I co-founded the artist collective, Animalis, in 2010 with my partner, Dharmesh Patel, for our collaborations. We're currently finishing up a streetscape project, Crystalline, for the City of Austin located downtown on Colorado Street. Four polished stainless-steel sculptures are already installed, and four more will be in place by the end of the year. We'll also soon begin designing art that incorporates light for a pedestrian tunnel to be built here in Austin as well. Later this year I'll be having a solo show at White Box ATX, so that's got me feeling really inspired. I'm in the process of making work for that right now.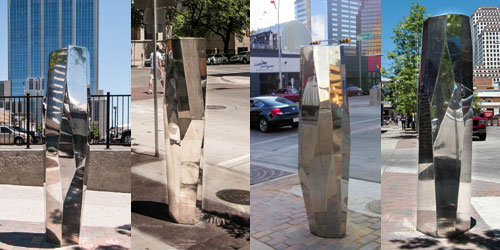 "Crystalline" by Animalis (Dharmesh Patel and Autumn Ewalt), City of Austin Art in Public Places collection; photos by Philip Rogers
JB: What were the most valuable things you got out of Artist INC?
AE: Artist INC really reinforced the importance of having a network and community of inspiring artists to support and rely upon. I became instant friends with so many incredible people. My heaven is being surrounded by artists and great creative thinkers. It also helped me to overcome my horrible fear of talking about my work, which was no small feat!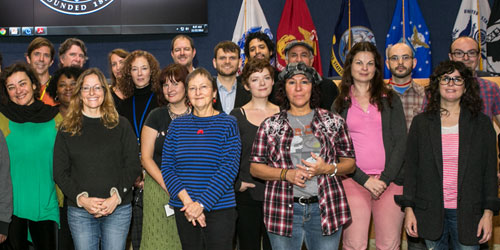 Artist INC Live Austin 2014 Participants; photo by George Ramirez
JB: What ideas do you have for what can be done to make Austin a better place for artists?
AE: Austin is super fantastic for artists, but I fear the cost of living is becoming a bit steep. Studio space is a must for most artists I know, and I think affordable housing and studio space are becoming harder and harder to find, so that concerns me. I know there are great minds who are working hard to find solutions as we speak, so I'm excited to see what happens. Not completely unrelated, I think it would be brilliant if all the private developers found a way to work with local artists to create art and other unique components to be integrated into the new buildings. I think there could be a symbiosis between the two that would allow for truly interesting, innovative spaces within the developments. I'm in the process of designing a line of porcelain chandeliers, and I'd be thrilled to work with a design team to create one-of-a-kind light displays for public or private spaces. I know so many local artists who do amazing work in metal, wood, and ceramic who would love the opportunity to design unique elements that would keep Austin from looking like every other city. 
JB: Where can people find out more about your art?
AE: People can see some of my work on the website, animalisworks.com. Anyone interested should feel free to send their email address [via the contact page] to be included in announcements for upcoming exhibitions and events. I also love for people to visit me in the studio, because it informs the work in a totally different way.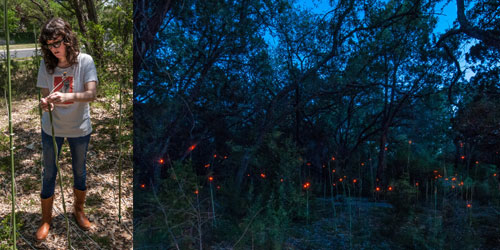 Left: Autumn connecting wiring for her temporary artwork in Gaines Creek Park; Right: "i see you, you see me", 2014, TEMPO 2013/14 temporary art program; photos by Philip Rogers