1912 City Council opened floodgates for new dam
Top: The Old Austin Dam circa 1890. / Center:The 1890 dam after flooding destroyed it. / Bottom: The second Austin dam, completed in 1915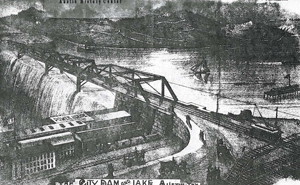 The devastated Austin dam awaited repair when the Austin City Council met exactly 100 years ago, this week.
City Council on Aug. 1, 1912 was working with contractors to repair the Austin Dam.
The dam was built in 1890 to allow Austin to harvest water and power from the Colorado River. After its construction, the newly-formed Lake McDonald (Lake Austin) became a recreation center, according to "The Old Austin Dams" a 1980 article in the Lower Colorado River Review.
Canoeing, sailing, skull racing and diving were popular daytime activities and steamboats featuring drinks, dining and dancing attracted evening guests.
But disaster struck in 1900 when flood waters rushed the dam, tore two 250-foot gashes in its wall and badly damaged the power house. For more than a    decade, the damage remained.
According to "The Old Austin Dams":
"The broken dam stood, in one historian's words, 'like a tombstone in the river, a marker of vanished glory and dim hopes'".  
But hope prevailed as the project was resurrected in 1911, when voters approved a bond issue to rebuild the old dam. 
On Aug. 1, 1912, one hundred years ago, the City Council agreed to pay William D. Johnson $25,534.20 for extra building materials and work needed to complete the new Austin Dam.
Little did they know that their dam, would again be shattered by floodwaters near its completion 1915. It would remain askew for more than two decades.
In 1940, a third dam, today's Tom Miller Dam, was built on the spot. The dam was dedicated on the day before the 40th anniversary of the first dam's destruction. "The Old Austin Dams" remarked on the choice of dedication day:
"Certainly the thought must have crossed a few minds: how long would this dam hold up?"