Camps
Austin Nature & Science Center (ANSC) Camps
Summer camp programs at the ANSC provide opportunities for exploration and discovery in the outdoors for children ages 4-16.  Environmental education-themed camps are offered for 1-2 week sessions from June 4 until August 17.  Weekly themes include outdoor explorers, animal lovers, mountain biking madness, science spectacular, nature by design, dinosaur detectives, have to have a habitat and more. Outdoor activities include hiking, swimming, biking, archery, kayaking, rock climbing and nature crafts. These popular camps are mostly filled at this time. For more information, visit the ANSC website or call 974-512-3888.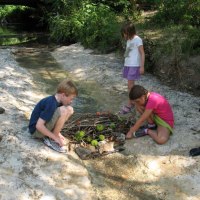 Clean Creek Camp
Sponsored by the Watershed Protection Department, the Clean Creek Camp allows parents to join their 9-13 year-old children for a week of fun exploring water in Austin's creeks or Edwards Aquifer. Unfortunately, registration is full for this year's segment of Clean Creek Camp, but you can view camp information for next year's segment.
Dougherty Arts Center Camps
If you want a summer arts adventure for your child, then A Space Odyssey 2012, Food in Art, ARTlympics or Modern Masters might be just the camp experience you need. The Dougherty Arts Center (DAC) has developed these two-week, full-day camps where young artists ages 5 and 6 discover their imaginations through visual and performing arts. Create constellations; make 2D or 3D food art; be a part of the pageantry and drama of the ARTlympics; and be inspired by Matisse, Kandinsky and others on your summer's journey at the DAC.
Mexican American Cultural Center (MACC) Summer Camps
Join the excitement by participating in MACC cultural camps! The goal is to foster a meaningful understanding and appreciation of Mexican American cultural arts and heritage. Daily activities in visual and performing arts classes reflect the session theme. Three of the five sessions still have available spots; view additional information online.
View information about all summer camps at recreation centers or summer camps at history, art and nature centers.
Summer Programs
Summer Activities at Community Recreation Centers
The Austin Parks and Recreation Department offers quality summer programs for children ages 5-14 years.  Monday through Friday, registered participants can engage in supervised activities ranging from weird science, arts and crafts, sports, cheerleading, theater, volcano-building, water relays, ultimate games, strategy games, ship-building to scrapbooking.
A wide variety of summer youth programs, including summer camps and structured drop-in activities, are offered at 20 recreation centers throughout the greater Austin area.  In addition to exciting daily on-site activities, summer camp participants can explore Austin on weekly field trips.  For more information about summer camps and other summer youth programs, call the recreation center closest to your home or work.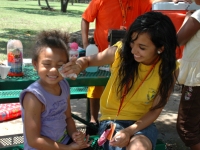 Summer Playground Program
The Summer Playground Program is a free supervised drop-in program that allows children ages 6-12 years to come and go throughout the day. Parks and Recreation staff mentor youth as they lead a fun variety of enrichment activities including games, crafts, active play and science and nature activities for children to enjoy. The program runs June 11 through Aug. 3. View program hours and locations.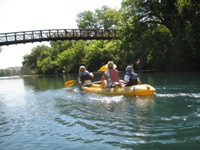 Texas Nature Challenge Program
The ANSC hosts the Texas Nature Challenge program from May 26 to August 4.  This popular program is like a family nature hike with a little Amazing Race thrown in.  Sponsored statewide, this program reconnects family and friends with nature and each other by encouraging them to visit as many participating parks and nature centers as they can in their region of the state. View more information or register your team online.
Other Activities, Programs & Events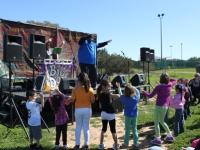 Austin Public Library Events
Austin Public Library hosts a variety of free entertaining youth events at its locations throughout the summer. View a calendar of all youth events to learn more.
Music for Kids
Sponsored by the City's Music Division, Music for Kids is a six-week summer concert series featuring 20 local, live musical performances suited for kids and teen youth at libraries throughout Austin. Performances are free and appropriate for the whole family. View the concert line-up.
Swimming Lessons
The PARD Aquatic Division offers progressive swim lessons for children ages 6 months to 12 years old. Additionally, the division offers specialty programming, such as snorkeling and junior lifeguard classes. Program registration fees are $55 per session, with classes offered between June 4 and August 27. View the Aquatic Division website for details or to register for classes.
Wrath of the Cons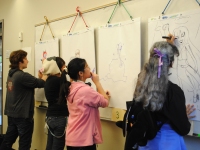 For teens, this year the Austin Public Library is hosting free a Wrath of Cons series of mini-con programs that include Robocon, the Apocacon, FracnFairyCon and, of course, YomiCon!
Youth Capoeira
Join instructor Erick Salazar at the MACC in a Capoeira class designed specifically for youth ages 5-12. In each one-hour class, students will experience the Brazilian-African hybrid of dance, music and martial arts, which aids children in working on their flexibility, rhythm and developmental coordination.