NOTICE: Upcoming Detour
Shoal Creek Trail closure planned to be in effect beginning October 21/22
A detour on the Lance Armstrong Bikeway (LAB) has recently been constructed due to the construction of the Central Library Project and the 2nd Street Bridge.
The portion of the LAB along Cesar Chavez is closed. A detour has been constructed beginning from the existing driveway at the Seaholm Plant to San Antonio Street. The portion of the Shoal Creek Trail that connects the LAB to 3rd Street was closed beginning October 22, 2013. Bicyclists are asked to use the detour on Cesar Chavez Street and bicycle lanes on San Antonio Street while the detour is in effect.
The detour will be in place for the duration of construction on the Central Library and the 2nd Street Bridge Projects. The Central Library is scheduled to be complete in 2016. The picture below shows the full detour.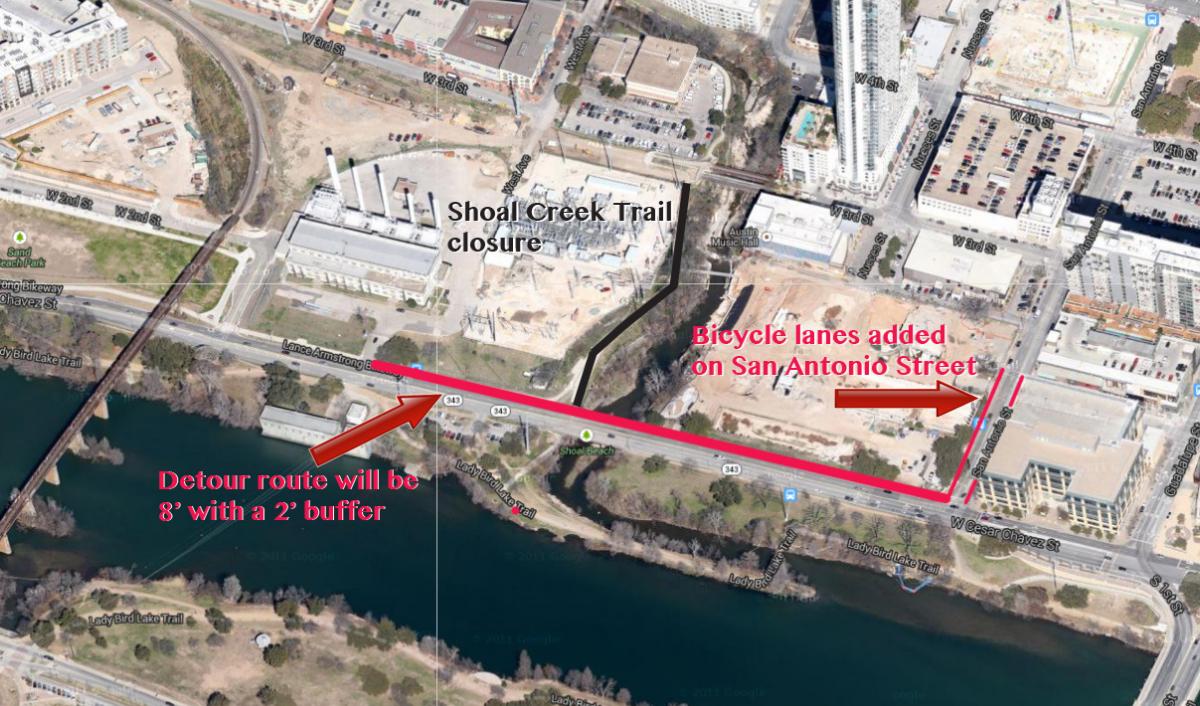 *Click picture above to view full pdf
Please check this page for up-to-date information on construction impacts to the LAB.
Contacts: Chad Crager, 512-974-3570 | Shannon Wisner, 512-974-7704
More information on the LAB:
The Lance Armstrong Bikeway was first proposed to Austin City Council on December 3rd, 1998. City Council was slated to approve a development agreement with Computer Sciences Corporation to construct office buildings (now occupied by Silicon Labs) on either side of the site of Austin's future City Hall. Second Street was beginning to be imagined as a pedestrian-friendly street and "a possible crosstown bicycle highway" was proposed as a compliment, connecting East Austin to West Austin through a vibrant downtown.
The "crosstown bikeway" concept was embraced by Mayor Kirk Watson and a number of City Council members, and worked into a project by City Bicycle Program staff with support from City management. The Friends of the Lance Armstrong Bikeway convened to advance the project, composed of Eric Anderson, Ellie Fowler, James Lochhead, Chip McCormick, Craig Nasso and Robin Stallings. Numerous neighborhood associations, private businesses and other groups supported the project. A grant for the project was awarded in 2000 through the Statewide Transportation Enhancement Program. Construction on the bikeway began in June 2007.
View the map of the planned LAB.
Check out how many people are walking and biking the LAB!