Background:
The 2010 Mobility Bond Guadalupe Improvement Project and Capital Metro's MetroRapid Project created an opportunity to install protected bicycle lanes or "cycle tracks" on Guadalupe Street. While considering solutions for the southbound MetroRapid bus platform on Guadalupe near the UT Coop that would not adversely impact storm water drainage, the feasibility of installing physically protected bicycle lanes was explored.
The project's design team found that by moving the transit platform and on-street parking away from the curb, the drainage issues were resolved, and at the same time, the opportunity was created for physically protected bicycle facilities in the southbound direction. Additionally, this plan allows for the northbound bicycle lane to be widened and buffered.
What is a "cycle track"?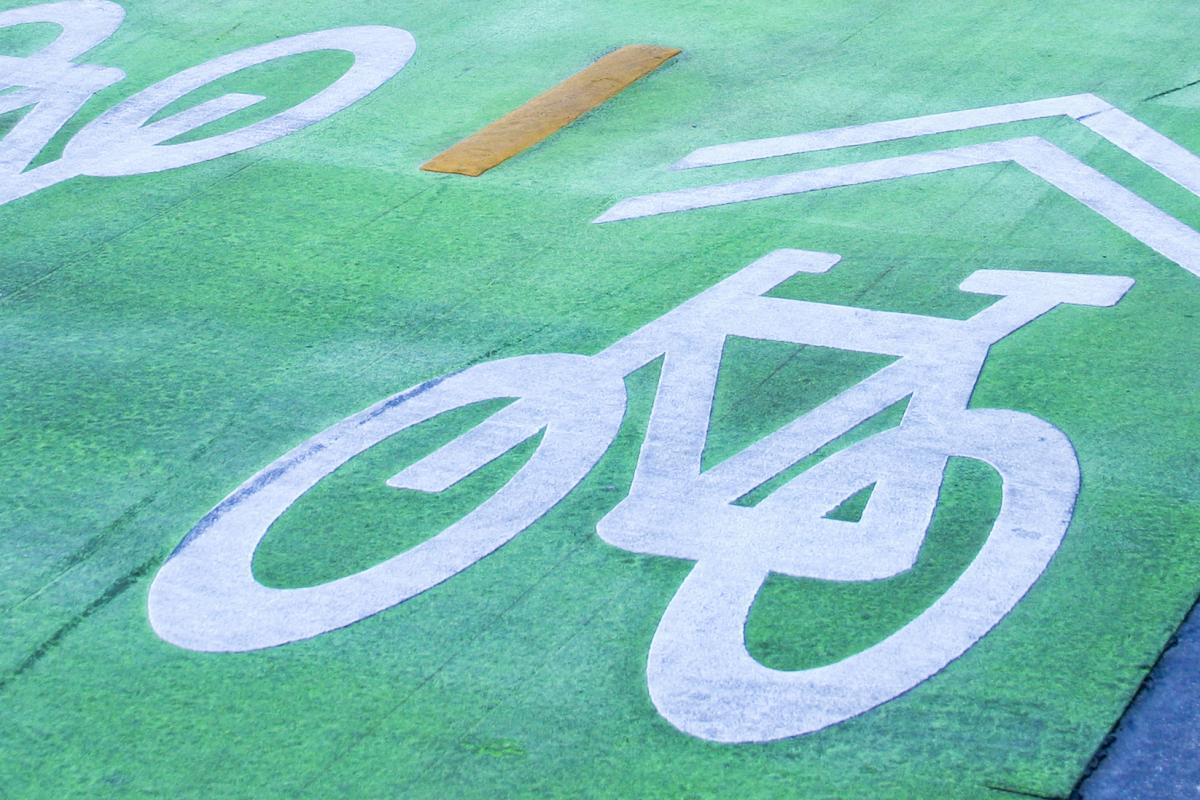 Cycle tracks, also called "green lanes," are separated bicycle facilities that run alongside a roadway. Unlike regular bike lanes, cycle tracks are typically separated from auto traffic by a physical barrier, such as parked cars, bollards, a landscaped buffer, or a curb.
Project timeline & updates:
Phase I Construction – MetroRapid bus platform and temporary bike detour:
Capital Metro's MetroRapid bus stop has been installed in the middle of the existing bicycle lane on Guadalupe. The Bicycle Program has implemented a "bike detour" and the Austin Transportation Department has reviewed and approved the temporary plan. The bike detour was completed on Friday, August 9th.
Phase II Construction – Accessible ramp upgrades, accessible parking spaces, and 21st street local bus stops:
A contractor has modified curb ramps and driveways to improve pedestrian accessibility as well as reconfigure curb ramps for the final configuration. This work was completed in August before UT's fall session.
Phase III Construction – Resurfacing, pavement markings, and pedestrian enhancements:
Resurfacing and restriping to achieve the final street configuration is planned for the week of October 7th, 2013. Street resurfacing will be completed at night to minimize traffic impacts. At this time, southbound bicycle lanes will be installed to clearly convey that on-street parking is to park away from the curb. Pedestrian areas and planters will also be installed.
Currently, the opening of the cycle track is scheduled for Thursday, October 17th. Delineator sticks will be installed prior to opening. Green, skid-resistant paint will be applied about a week later, weather permitting.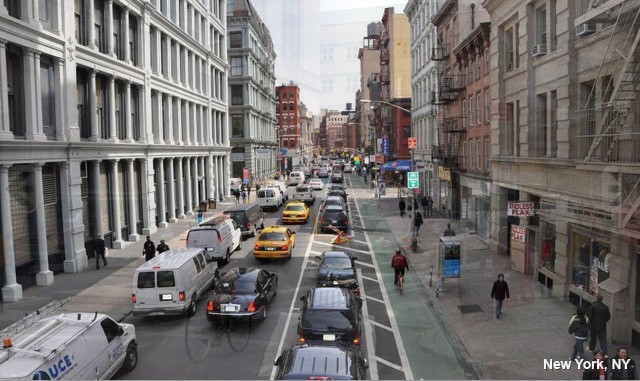 Funding & Design:
The project will be funded using 2010 and 2012 bond funding. The total cost will be approximately $650k.
The photograph to the left shows an example of a similar type of project in New York City.
Project Partnerships:
Special thanks to the Ghisallo Foundation for providing a pro bono bicycle parking consultation for the cleanup of bicycle parking on Guadalupe.
Local non-profit group Bike Austin has partnered with the City to position "street ambassadors" near the University Co-op when the changes go into effect. These ambassadors will be distributing educational brochures and speaking with folks about the changes to the street.