Patients with COVID-19 have had mild to severe respiratory illness with symptoms of 
Fever

 

Cough

 

Shortness of breath

 
---
Telehealth Services
Healthcare providers are encouraging all patients experiencing flu-like symptoms to first use mobile apps or visit websites that have been set up for COVID-19 response. For your safety and convenience telehealth resources are available. 
Before scheduling an appointment with your healthcare provider or walking into a clinic, urgent care center or hospital it is recommended that you check with your physician's office directly as they may be offering telehealth appointments with your provider or use a similar service listed below.
Visit their website or to install the app on your mobile device, simply text BETTER to 88408 to have it sent to your phone. No appointment is needed. 

Visit their website to download the app. Use the code HOME for a $20 cost per visit, and no appointment is needed.  

Visit their website to sign-up for a free account.

Visit their website to set-up an account or download their app. The cost of a Teladoc visit depends on your health plan, with everyday care costing less than $49.

Visit their website to download the app. A visit on HeyDoc costs the patient between $10 and $50.

Visit their website to schedule a consult with a Critical Care M.D. or Behavioral Health professional.

A local clinic that will see new and established patients via telehealth.

Visit their website to register for an account. Sliding income scale for cost ranging $0-$70.
We are not doing on-demand drive-thru testing at this point. Currently, you have to be screened and directed there before this kind of testing is recommended. 
---
Services for Uninsured
CommUnityCare Telemedicine Availability

You now can get care without leaving the comfort of your home — through a phone appointment. This allows you to still get great care while helping to address the community spread of COVID-19. Please call 512-978-9015 to schedule a phone visit with your doctor or clinician.

CommUnityCare Triage Hotline

Central Health-funded CommUnityCare Health Centers launched a hotline staffed with medical professionals to triage uninsured Travis County residents experiencing coronavirus-like symptoms (COVID-19).

People experiencing COVID-19 symptoms who are uninsured and do not have an established doctor can call the COVID-19 Hotline at 512-978-8775 for guidance. Starting today, medical professionals will answer the phones and triage callers – specifically people who are uninsured – to prevent them from going directly to a clinic, urgent care, or emergency department. For now, the hotline is available 8 a.m. – 5 p.m.
Stay home except to get medical care

 

Call ahead before visiting your doctor

 

Monitor your symptoms

 

Separate yourself from other people and animals in your home

 

Avoid sharing personal items

 

Cover your coughs and sneezes

 

Clean your hands often

 

Clean all high-touch surfaces every day

 
Patients with confirmed COVID-19 should remain under home isolation precautions until the risk of secondary transmission to others is thought to be low.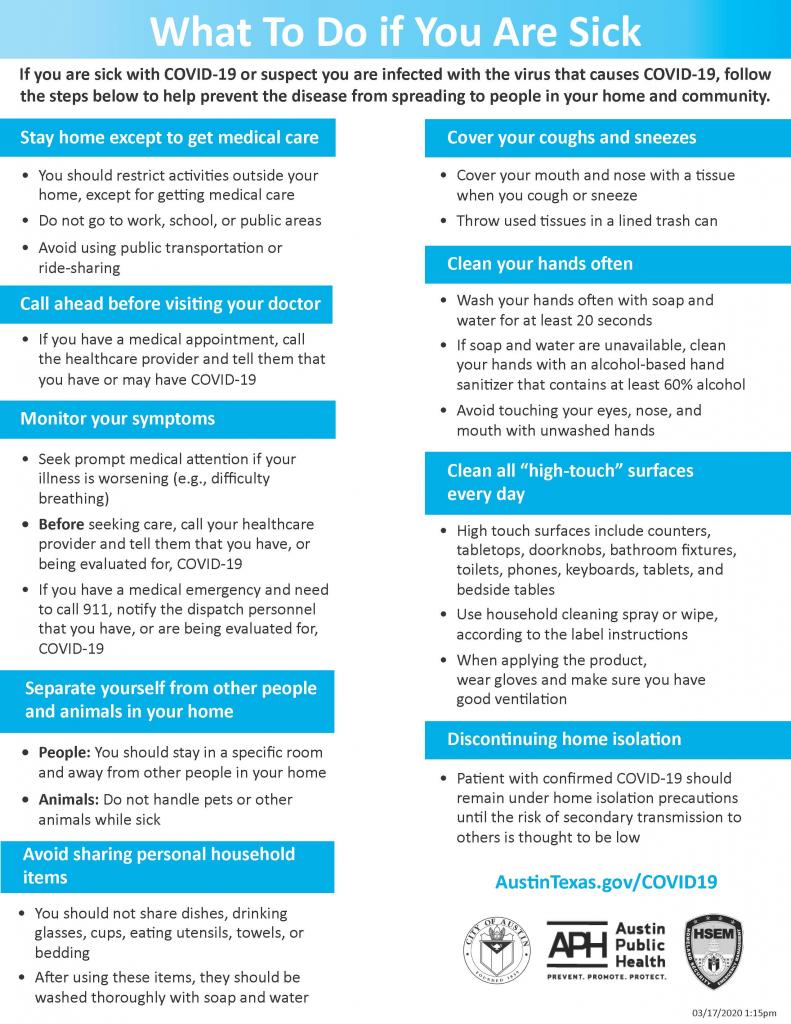 Please talk with your employer about your time off work. Some employers may allow you to work from home. If needed, you may use the Control Orders as a doctor's note.
---
Accessing Essentials
While you are under isolation, you may need to access essential items such as groceries and medications. Austin Public Health has compiled a list of resources to assist.
Food/Personal Items

If you do not drive or have a friend, family or neighbor who can pick up items and deliver them to your home or if you need help buying food, please call 512-972-6240.

Medication

If your pharmacy does not have a delivery option, check if they have a drive-thru location. You may call the pharmacy and find out if they can transfer your refill to another location for a one-time pick-up.

Finances

Some banks may work with you on delaying payments. Please contact your bank for questions. If you would like help with other resources, please ask your Public Health Monitor for a referral.

Emotional Support

Your emotional needs are important and if you are worried or upset, there is help. You may be feeling anxiety and worry, sleeping troubles, over or under eating, or sadness and depressed mood. If you have any of these symptoms, please reach out to:

Integral Care 24-Hour Crisis Hotline: 512-472-HELP (4357)
National Alliance for Mental Illness Helpline: 1-800-950-NAMI (6264) or text NAMI to 741741

Monday-Friday 10:00 a.m.-6:00 p.m. ET

National Suicide Prevention Lifeline: 1-800-273-8255

If you have additional concerns or questions and would like a follow-up from a Case Manager, please notify your Public Health Monitor.
---
At-Home Entertainment Resources
Austin Public Library Virtual Library

Austin ISD Learning-At-Home

UT Biodiversity Center

Google Arts & Culture

Monterrey Bay Aquarium

Smithsonian National Zoo

Smithsonian National Museum of Natural History

Smithsonian Institute

Scholastic