The City of Austin is on its way to developing a better method for residents and visitors to explore downtown.
The Downtown Wayfinding Program, an action item outlined in the Downtown Austin Plan adopted by City Council in December 2011,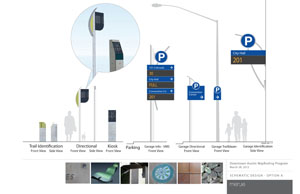 ABOVE: The first of three proposed designs for the City of Austin's Wayfinding Program.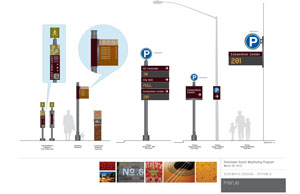 ABOVE: The second of three proposed designs for the City of Austin's Wayfinding Program.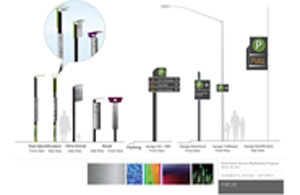 ABOVE: The third of three proposed designs for the City of Austin's  Wayfinding Program.
has made headway, and City officials are asking residents to comment on the initial progress.
Wayfinding, in a nutshell, is a method that people use to get from Point A to Point B, said John Bosio. Bosio is a partner at MERJE, the Philadelphia-based design firm working for the City on the Wayfinding project.
The project is under the direction of the Planning and Development Review Department's Urban Design Division, in partnership with the Austin Transporation Department.
"At its core, it's about the experience visitors have when they come to downtown Austin," Bosio said during a public presentation March 28.
He said it's important that Austin communicates information in a consistent way to residents and visitors through its Wayfinding-related signage, technology and imagery.
"We're trying to create an identity for the system," said Christine Freundl, Senior Planner for the Urban Design Division. "We're branding the tool, not the community." The final Wayfinding plan, which is expected to be
completed by December 2012, could involve:
The establishment of easily-identified parking signage. This effort could include putting up digital signs that tell visitors where parking spots are available as they enter the city.
Verifying that signage and Wayfinding tools throughout the city are consistent and easily-recognized.
Using text messaging applications or smart phone scanning codes at kiosks to give visitors information.
Developing mobile applications that can help visitors find their way through Austin.
Using symbols rather than words where possible to help guide Austin's multi-lingual population.
The City also should consider creating more welcoming "gateways" to Austin, said Jana McCann of the Austin-based McCann-Adams Studio. McCann works as a consultant for the City's Wayfinding team.
The use of art, sculptures, signs, lighting and maps at critical entrance points for visitors could improve the city's navigability and give visitors more of a feel of Austin's character.  Target gateway areas, according to McCann, could include:
Bridges into the city such as Congress Avenue and pedestrian crossings at Interstate 35.
Entrances into downtown from the University of Texas campus.
The intersection of 11th Street and Congress Avenue (the Capitol building), where many political visitors converge.
Entrances to the city from Mopac Expressway.
Public transportation gateways such as Fourth and Brazos and bus stops with high numbers of boardings.
So far, the Wayfinding team has gathered information about the city and developed three draft designs for a Wayfinding plan.
"They're very distinct concepts that pieces can be interchanged," said Tonya Schwartzendruber, also a Senior Planner for Urban Design. "So these concepts aren't set in stone."
Right now, the Wayfinding program is in a pre-design phase, Freundl said. The next step is to design and develop the system. The final plan will have to be adopted by City Council before implementation can begin.
To find out more about Wayfinding, visit the program's official website. To give your input, fill out and submit the City's online survey by April 20.